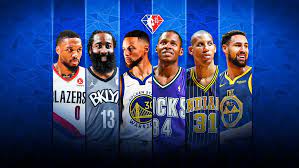 NBA.com
The NBA is filled with memorable moments and amazing players who create new highlights every night. Right now the league is full of phenomenal talents such as Stephen Curry, LeBron James, Kevin Durant, Giannis Antetokounmpo, and Luka Doncic to name just a few. 
While the league has elite talent all over,  let's talk about a few specific players and storylines. 
This year, the biggest early-season story was Steph Curry breaking the three-point record for the most threes made in a career. The previous holder of this title was former superstar Ray Allen who hit 2,973 3-pointers in his Hall of Fame career. Curry broke the mark on December 14 2021 and, of course, has continued to hit even more 3-point shots. He currently stands at 3,012 and counting and will look to push that total to a mark that will be very hard to break.  
Curry and Allan are two of the greatest shooters of all time and this is a phenomenal record to be broken. In my opinion, Curry is the greatest shooter and the greatest point guard of all time with his ability to create and win games and he most definitely has the accolades to prove it.
Now let's talk about the return of Kyrie Irving who had been out for a very long time due to injury and Covid issues of his own creation. In his return on January 5th against the Indiana Pacers, Irving played 32 minutes and finished with 22 points, 4 assists, and 3 steals. The truth is, every NBA fan was excited to see the superstar play again and it's honestly great to see him back on the court after such a long absence.
Our next topic is LeBron James. James is looking really good this season, almost as good as his days in Miami. Some say it's the change of jersey number – from 23 to 6 –  but no matter what it is, he is playing phenomenally. Unfortunately, his play has not meant success for the Lakers. They have struggled and just had a long losing streak that showed some of their issues. Some say the problem is team chemistry and the loss of Anthony Davis, who is out with a spine injury. But we all know the real issue is  Russell Westbrook. He has been playing the worst basketball of his life and it's terrible for a player of his talent. After looking at how he's been playing recently you can argue that he peaked when he broke the triple-double record in 2017. Since then has been forcing things and has not been the same player he was in that one season. He's put up a lot of points – and more triple-doubles, but he's still not the same. If Westbrook starts focusing on the team more and himself less they can bounce back from this. All of them, actually, need to do this – work on their individual game and put more into the team. If they do this and LeBron is the ¨GOAT" that everyone says he is, then he can most definitely put this team on his back.
Now let's look at a team that was incredibly dominant just a few years ago: the Warriors. More specifically, the real story with the Warriors is the return of Klay Thompson,  another superstar who has come back from a serious injury. Thompson has not seen action since 2019 when he tore his ACL in the finals against the Raptors. That's more than 2 seasons he has missed and the whole league – and its fans – were happy to see him return.  Klay had 17 points in 19 minutes in his return on January 9th – a  win against the Cavaliers.
Lastly, we need to look at Ja Morant and answer the question of whether he is the next big superstar in the league?  Ever since the Memphis Grizzlies drafted him in 2019 he's been nothing but a living highlight. Right now Grizzlies are number 1 in most of the power rankings and this is mainly because of his successes as a player. He's been averaging 24.4 ppg 5.7 RPG and 6.7 APG over the course of this season. Anyone who has seen his game develop over the last couple of years knows that his potential can keep growing.