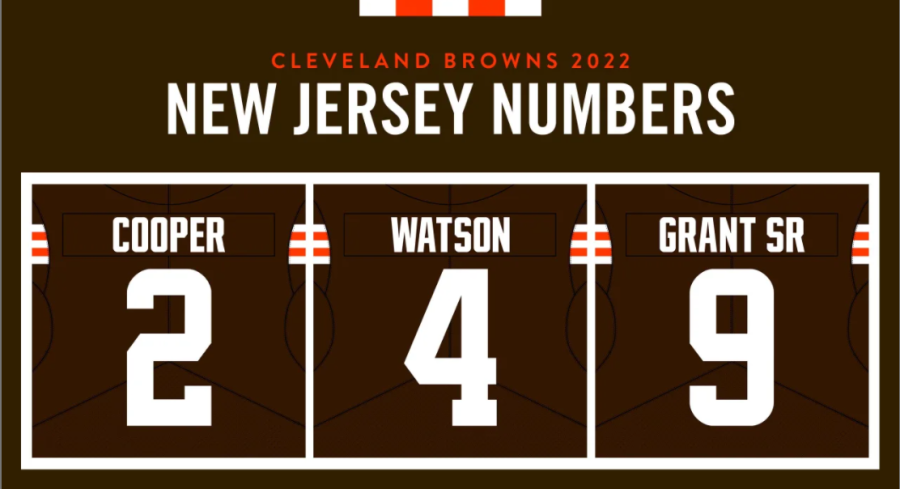 Has This Been the Best NFL Offseason Ever? 
There have been a lot of big moves so far in the NFL off-season. From big trades to surprising free agent signings, it's been a big year. 
The first big move to look at has to be Deshaun Waston being traded to the Browns by the Texans. This trade saw Watson, arguably one of the top five quarterbacks in the league, go to Cleveland for three first-round picks (in 2022, 2023, and 2024), one third-round pick (in 2023), and two fourth-round picks (in 2022 and 2024). This trade benefits both teams but Cleveland gets a superstar, and then the Texans get draft capital for a rebuilding team. 
Another big quarterback move also involved a trade as the Seahawks sent Russell Wilson to the Broncos for quarterback Drew Lock, defensive lineman Shelby Harris, tight end Noah Fant, two first-round picks, a 2022 second-round pick, a 2023 second-round pick, and a fifth-round pick. The Bronco's move to get Wilson makes the AFC West a brutal division to win with 4 top quarterbacks in one division alone. 
For the Seahawks,s they knew Wilson would be coveted and the draft capital they received will help them rebuild. Also, the Seahawks get a young QB that still has to prove himself in Drew Lock and could take a quarterback for the future at pick number 9. 
Another big QB move saw the Colts trade Carson Wentz to the Commanders in exchange for a 2022 third-round draft pick and a 2023 third-rounder, which can become a second-round selection if Wentz plays 70% of Washington's snaps. The teams also swapped second-round picks in 2022, with the Colts moving up from No. 47 overall to No. 42, and the Commanders getting a 2022 seventh-round pick. 
The fact is the Commanders were able to get a stable QB – something they haven't had since 2016 with Kirk Cousins. Since then they haven't had a QB they can trust and with the addition of Wentz they get a QB who is well-respected and though he is not elite, he is at least respected among his peers. 
Keeping the QB moves going, Matt Ryan, the career quarterback for the Atlanta Falcons, was shipped to Indianapolis to take over as the latest signal-caller looking to replace Andrew Luck. Ryan is in a pretty good place as the Colts went 8-8 last season and just missed the playoffs. He is an upgrade at the quarterback position for a team with a solid roster. 
In non-QB moves, the Ravens made a splash by signing a top safety in free agency as Marcus Williams made the move to Baltimore. The Ravens gave him a 5 year, 70-million-dollar deal. Overall, this is a good signing for the Ravens as they get help in the secondary and take the pressure off All-Pro stud cornerback Marlon Humphrey. A second-round pick by New Orleans in 2017, Williams has 312 tackles, 15 interceptions, 38 passes defended, and three forced fumbles during his career. He's one of six players with two-plus interceptions in each of the past five seasons.
Earlier this off-season, Zhdarius Smith was released by the Green Bay Packers to give them cap space to re-sign their superstar quarterback Aaron Rodgers. After a playoff collapse against the San Francisco 49ers, the Packers were heading into the offseason with three goals: extend young cornerback Jaire Alexander, keep quarterback Aaron Rodgers at all costs, and figure out what to do about superstar wide receiver Devantae Adams.  They accomplished two out of the three goals by locking up Rodgers giving him the 2nd largest guaranteed contract of all time and picking up the fifth-year option on Alexander. The Rodgers move helps them considerably knowing they keep a top-3 quarterback and reigning MVP on their roster. Though they did not extend Alexander, the fifth-year option pays him over 13 million so they'll have to focus on extending him this summer or during the season. 
The big move by the Packers, however, was the shocking trade of Adams to the Los Vegas Raiders. They traded Adams for a first-round pick (No. 22 overall) and a second-round pick (No. 53 overall) in the 2022 NFL Draft. Adams, originally a second-round pick by the Packers (No. 53 overall) in the 2014 NFL Draft, played in 116 games with 109 starts in eight seasons and 2021 set new single-season team records for receptions (123) and receiving yards (1,553) and became the first player in team history with three 100-catch seasons. It will be tough to replace this kind of production. 
As for Smith, a 2-time Pro-Bowler, he had a cap number of $27.7 million entering the 2022 season, and releasing him clears almost $15.3 million from the Packers' cap but adds almost $12.4 million in dead money. Even though he's coming off a major injury, Smith is expected to be a key contributor for his new team – and division rival – the Minnesota Vikings who signed him to a three-year deal worth 42 million. 
  This off-season has seen the Super Bowl Champion Los Angeles Rams get richer as they have made several moves to strengthen their team including signing former Seattle linebacker Bobby Wagner, who agreed to terms on a five-year contract that will pay him up to $65 million. Seattle elected to release Wagner back on March 9th to help free up cap space which put an end to his decade-long tenure with the franchise he came to as a second-round pick in 2012. During his legendary run with the organization, Wagner became one of the best linebackers of his generation and earned six first-team All-Pro selections. He is a big signing for a team that already has a strong and at times dominant defense. 
The reigning champs also made a splash signing to boost their high-powered offense at the wide receiver position by inking former Chicago Bear Allen Robinson. Robinson signed a three-year, $46.5M deal that earns him some instant recognition, which is something he deserves as he has been one of the most underappreciated receivers in the NFL for years. He has carried the Bears' offense, generating back-to-back 1,000-yard seasons in 2019 and 2020. When healthy, Robinson is a difference-making talent who can box out in the red zone and make contested catches. According to Next Gen Stats, Robinson leads the NFL with 140 tight-window targets (less than 1 yard of separation) since 2018, with 51 catches on tight-window targets in that span. Safe to say that the Rams are all set on offense heading into next season.