Legacies – a Show Worth Watching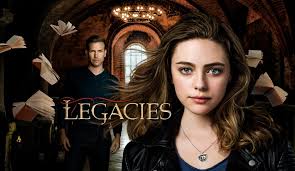 If you enjoyed the supernatural series The Vampire Diaries or the spinoff The Originals, you should definitely go watch the new spinoff TV series Legacies. Based on some characters in both previous series, this new series has many of the fans excited to see their favorite characters revived. Legacies premiered on The CW network on October 25, 2018 and fans are waiting anxiously for the mid-season premiere on January 24, 2019. This season reveals a new veil for the supernatural world that fans have not seen in either the Vampire Diaries or The Originals.
The show focuses on Hope Mikaelson, the daughter of Klaus Mikaelson who is the main character for The Originals. Hope attends a boarding school designed for kids who are supernatural. Hope is a tribrid, which consists of a vampire, a werewolf and a witch. The show focuses on her struggles of being the only one of her kind and also the struggles and drama of other students. Some characters like Alaric Saltzman and  Jeremy Gilbert, who are both characters in The Vampire Diaries are seen throughout the season. The series is based in Mystic Falls and is centered around The Salvatore House which is named after one of the main characters in The Vampire Diaries, a place fans have seen numerous times in Vampire Diaries.
The mid-season finale left many questions unanswered and fans wanting more. Legacies is something that people should definitely check out.