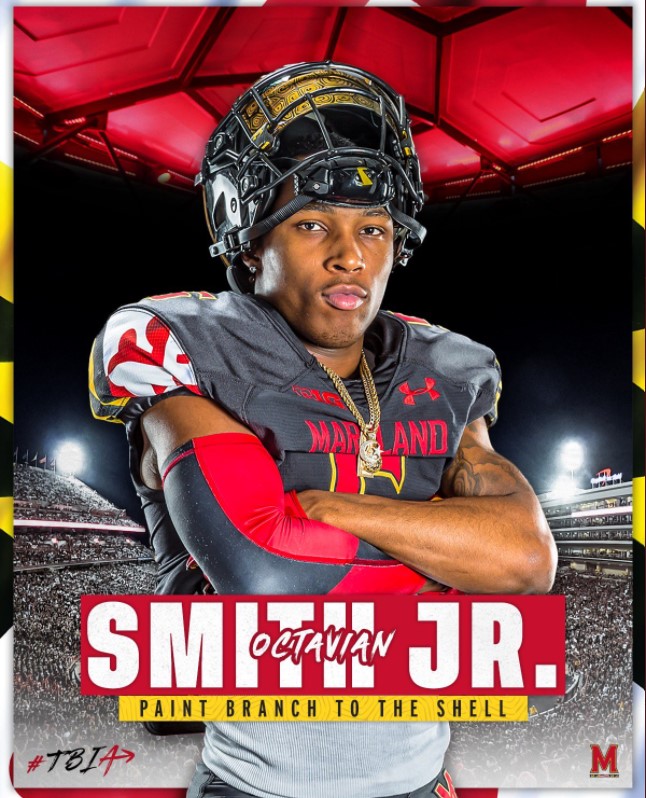 UMD Athletic Department
How do you make important decisions? For some, difficult decisions require specific actions such as making a pro/con list, talking to people they trust, or even taking a step back. For Paint Branch's Octavian Smith, Jr. all it took was finding the place that felt like home. 
Tay originally verbally committed to Northwestern, but then felt that he "rushed the process" and chose to de-commit in September. Opening up his recruitment again meant that he was bombarded with information from schools including the ones that made his final list: Boston College, Northwestern, Penn State, Virginia, and Maryland. As for what helped him come to his final decision on UMD, Tay says the decision was based on "who stayed in contact the most."  
He initially had 16 Division 1 offers but he says what made Maryland his final choice was "The family culture and how much it reminds me of home here at PB, the vision coach has and everything he stands for is something I can get with."
Any conversation with Tay means talking about those individuals who have had a major impact on his life and one of the people whom he names are PB Varsity Football Head Coach Mike Nesmith. Some lessons that he has taken from Coach Ne that he will carry with him as he goes into college include "The importance of resiliency, discipline, and knowledge that I gain through trial and error." On this point, Tay says, "I gotta remember I'm on a mission; I gotta remember my why. I can't let what's going on around me affect my level of play because if that happens everything around me is going to go downhill, there's a lot of people that count on me and I can't afford to let them down."
He describes the relationship between him and Coach Ne as a father/son type connection. "He's like a father figure to me [and] he has been ever since he took me under his wing when I moved up my freshman year," says Tay. "I appreciate that dude."
In an interview with Channel 7 news earlier this year Tay stated that his mother is his "best friend." He added that "She ain't never missed one of my games [and] she does not plan on missing one. My mom, that's my inspiration right there. Honestly, everything I do, I do it for her; she is my biggest why. The things she's been through – as well as my grandmother – they've been through a lot and they instill the importance of resiliency." 
During Tay's freshman year, PB starting quarterback Norman "PNUT" Douglas, Jr. was the upperclassman that took him under his wing and motivated him to be better on and off the field. Tay notes, "He's self-made like I am; he got it on his own, he graduated here, went to Alvernia, transferred through a JUCO [junior college], and now he's playing D1 football under Deion Sanders at Jackson State. No matter what you're going through, just stay down, stay motivated, and stay devoted to your goals." 
It was during his junior year – the year that he says he really began training – that Tay began running track. Prior to this, Tay says the only training "for track" that he did was the weekly workouts he did with PB football coach Myron Flowers, which they called "Myron Tuesdays." These workouts "weren't really track work; he would explain the fundamentals of form running and getting ourselves in condition," says Tay, who adds that "[In track they taught me] coming out of the blocks, relays, motion, all of it was new to me." Tay, who admits that he is a pretty fast learner, notes that this was when he started getting some serious attention from scouts. "My PR hand time was 10.46 [and] that got a lot of scouts going crazy. Someone told me that I was .10 away from DK Metcalf's PR in the 100, which was 10.36."
Tay's first football offer came in January 2020 from UMass and then more rolled in during the spring from schools including Old Dominion, Bowling Green, Air Force Academy, and Northwestern. This fall he led the Panthers to a 9-2 record and berth in the state playoffs, even more, offers came in this time from more Power 5 programs including the schools that ended up in his final five.
Tay says that this fall after the team's quarterfinal loss to Northwest, he received several Division 1 track offers. Asked whether he had any desire to run track in college he says, "It came across my mind, but honestly football is my passion. If I get the opportunity I would run track at UMD but for the most part, I'm focused on my goal when it comes to the game of football." 
From his freshman year to today, Tay knows that there have been a lot of teachers who have helped and motivated him to be better, but he highlights that Mrs. Kimmel played a big part. He states that "Mrs. Kimmel is like a mother figure to me." 
He is thankful for all the support he has received from friends and family. Having family and friends that he can depend on has been really important, says Tay. "It's been huge. Like coach said, 'this is the first big man decision I have to make, this is the first decision I have to make on my own so having a big support system is big."
If he could say one thing to everyone that has provided him support, even to the ones he doesn't know he says, "No matter what you go through in life keep your head down stay focused find a purpose in life whatever that purpose maybe stick with it forget what people saying outside, there's gonna be people that disagree at the end of the day but you have to do what's best for you. Go get it."
While people have come to associate the name Octavian Smith with sports, particularly football, a major hobby of his is poetry. He says "A lot of people are shocked. After my commitment video, people say they liked what I said. I wrote it all; I have a way with words. It's a way I can express myself." "A lot of people are shocked.
His message to all of the rising seniors is, "It starts in the classroom; I had the opportunity to go to these big academic schools like Vanderbilt and Northwestern and I was able to do that because I handled my business in the classroom. When you hear coaches say, 'It starts in the classroom' don't push that aside, take that and put it in your head. If you have the grades you can go anywhere in the country."
So when you head to UMD in the fall or tune in to a game, keep an eye out for Tay, who expects to "contribute and get Maryland over the hump as well as allow them to be the powerhouse that they are capable of being in the next 4 years."