Bronny James and Sierra Canyon Escape Maryland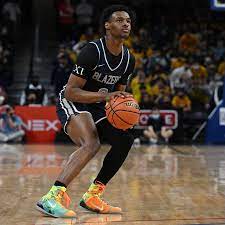 Bronny James and Sierra Canyon left California and traveled all the way across the country to play the number one team in Maryland, the DeMatha Stags. However, what was an exciting game between two star-studded lineups turned into a frightening scene just minutes into the game. 
Coming into the game, Sierra Canyon was ranked number 9 in the nation and was led by James, a 4-star recruit ranked number 41 in the nation. His brother, Bryce James also attends Sierra Canyon and plays on the team, though he is not as highly ranked right now.  
This game was as good as advertised as both teams played well and were tight throughout. DeMatha played solid defense on Bronny, holding him to 11 points in the game, which was played at Dr. Henry Wise High School. Etan Thomas, a former Wizards player who is now a writer and covers basketball on basketballnews.com said Sierra Canyon almost "mounted" a comeback after falling behind. On the DeMatha side, Jaden Winston attacked Sierra with 10 points for the Stags. Thomas stated that Winston's "real impact was felt on the defensive end where he harassed the Sierra Canyon backcourt the entire night."
Unfortunately, what should have been all about great basketball turned into a crazy scene with just under 2 minutes left in the game as a shooting scare had players and spectators running out of the gym and scattering around the venue.
PB junior Yeabsira Getachew attended the game and shared her thoughts.  Most people felt like the game was very intense and interesting to watch, especially since Bronny came to the DMV. She went to the game because her friend wanted to go since she is a big fan of James. She explained how hyped and enjoyable the game was before the incident towards the end.  As for what she did during the gun scare,  she says, "We were kinda already around the stairwell, so I kinda just grabbed her and we started running."
With the game cut short due to the incident, DeMatha claimed a 52-51 victory, but, of course, some consider the outcome undecided due to the fact of it having to end early.  At the end of the day, DeMatha was on top of the game and that is how it ended, both teams played a great game regardless of who won, and no one was hurt during the unfortunate gun scare.