General Election Results Bring Historic Change to Maryland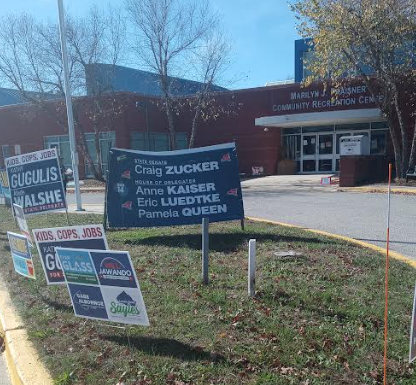 You are standing in front of a building; but before you go in, someone gives you a packet of instructions for voting and a sample ballot. You enter to see a long line of people with the same papers that you have. A woman at the counter points, and you join the line. You reach into your pocket for your wallet to bring out an identification card to confirm your citizenship and residency. You look up to see that it's your turn to vote; so you enter, state your name, show the proper documentation, get your ballot, and then cast your votes for the people and policies that you have decided deserve it.  
The general election on November 8th brought important results in both the state of Maryland and across the country. It was a time of great excitement for some and great angst for others, as important elected offices and ballot measures were up for vote in 2022. The winner of the election for governor of Maryland was Democrat Wes Moore, a political novice who has never held an elected office. Moore's win is a pretty historical achievement as it makes him the first Black governor elected in Maryland and only the third Black governor to ever be elected in the United States. 
A Democrat, Moore easily defeated his Republican challenger Dan Cox by taking 62.2% of the vote to Cox's 34.7%. Maryland is a very "blue" state with the majority of voters identifying as democrats. Despite this, Cox, according to The New York Times, actually won the majority of the state's 24 counties, taking 14 to Moore's 10. Unfortunately for Cox, who was endorsed by former President Donald Trump, those 14 counties make up only a small portion of the total residents of the state, and Moore earned more than 500,000 votes. Moore, in an interview with Joy Reid of MSNBC, talked about being just the third Black governor in U.S. history. "You know, it means a lot in terms of my family history," said Moore. 
Paint Branch NSL Government teacher Ms. Bullit commented on Moore's election as well as the midterms saying, "The people spoke; and they told us who they wanted to help lead us in our country. I'm excited for what they have to bring.¨ 
On the senate side of things in Maryland, Democratic incumbent Chris Van Hollen won with over 63 percent of the vote over his Republican opponent Chris Chaffee, who earned just under 37 percent. Van Hollen, who was elected to the Senate in 2017, stated in an interview at Annapolis that he "would use a second term to support early education, K-12, apprenticeships and workforce training programs" in response to his winnings.
Brian Witte of AP News reported that Van Hollen spoke "in an interview Tuesday at a poll in Annapolis, [and] said he would use a second term to support early education, K-12, apprenticeships and workforce training programs." Witte also reported that Van Hollen added "'We've got to be equipped for the 21st century…We've taken some steps, but we are falling behind in a lot of areas.'"
In an important Ballot Question, Maryland voters chose to legalize recreational marijuana (cannabis) in the state. This vote now makes Maryland the 22nd state to legalize cannabis and follows the state's decision to legalize medical marijuana in 2014.
Maryland voters also voted to remove Orphans' Court judges, limit the right to a jury trial, and rename the appellate courts, which are courts that hear the appeal of a trial court's decision. All the ballot questions got accepted with at least 60% of people voting for them.