What are the Panthers up to this Spring Break?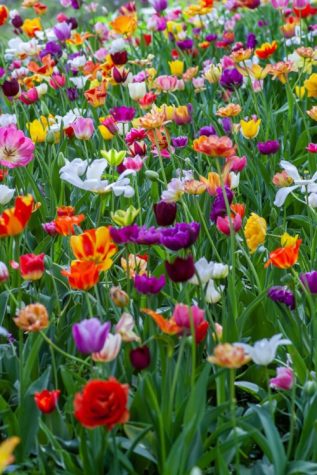 As the weather gets warmer and the sun starts shining brighter, the days feel longer and almost everyone around the school has something to smile about. Spring break is approaching and I was able to roam around the halls and find out a bit about what the PB students and staff are planning on doing during their time out of school. 
Some of the things that PB staff and students are planning on doing over break include spending time with family and friends, staying home, and catching up on missing work. One student, Lina H, said she plans to spend her time taking ice-skating classes, and she's probably going to start playing soccer again.
PB Staff members Ms. Kim, Mr. Julian, and Mr. Hernandez are planning on going out and spending time with their families. Ms.Kim, an English teacher,  is planning on going to the beach with her children, and  says, "For parents with small children, their spring break turns into an adventure with their kids; but maybe I can catch a little break." 
Mr.Julian, a history teacher, says he is most likely going to travel to New York with his family and they are going to the beach. He's planning on buying Easter candies–especially the chocolate peanut butter ones for his kids, even though he and his family aren't religious. 
Assistant Principal Hernandez is planning on going to Florida with his family and catching up with any school stuff that he has been waiting to work on. Mr. Hernandez ended his sentence by saying he might come late traveling back from vacation, "I might come late because I'll be flying there."
Getting back to PB students and their plans for spring break, a close friend named Nathalia D. says she is planning on visiting her family, going out to eat, and playing games with them. To summarize she says, "Quality time."
Another student, Malaika P., was excited to report that she will be going to Atlanta, Georgia also to visit family. Her plans are to go camping and spend some time in the woods. Her summary of this is: "Enjoy life in Georgia!" 
While some of the PB staff and students are going out and spending time with their family and friends, some are focusing their attention on school and other extracurricular activities. 
Students  Ruth D., Rida, Brenden, and Mhader are spending their spring break either preparing themselves for classes with upcoming assignments, or spending their time practicing for sports.
Rida adds that she will be studying for the AP exam and plans on spending the rest of her spring break sleeping and relaxing. She finished  by saying, "Don't stress too much, because it's never that deep." 
PB's principal Dr.Mirshah is staying home and doing work to help contribute to the benefit of Paint Branch for her spring break. She ended her interview by sorrowingly saying, "Just staying home, and finishing up work." 
With all of the different activities and trips PB students and staff are planning for spring break, it is clear that there are a lot of things one can do. So, no matter what your plan is, don't forget to spend time on yourself, and spend your spring break the way you desire.