PB Senior Awarded Prestigious Scholarship: Posse Program Tabs Kendall Newman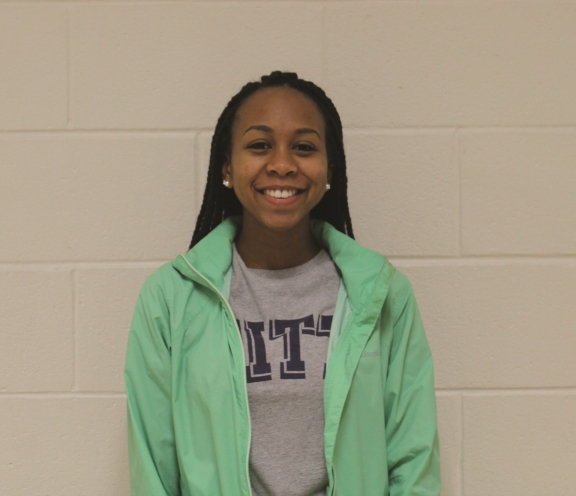 Hang on for a minute...we're trying to find some more stories you might like.
Every year since 2005, ten students from Paint Branch High School are nominated for a Posse Foundation Scholarship for their leadership abilities and academic potential. This year's nominee, Kendall Newman, received a Posse Foundation Scholarship to the University of Wisconsin-Madison.
According to the The Posse Foundation website, Posse, founded by Deborah Bial in 1989, "identifies public high school students with extraordinary academic and leadership potential who may be overlooked by traditional college selection processes. Posse extends to these students the opportunity to pursue personal and academic excellence by placing them in supportive, multicultural teams—Posses—of 10 students. Posse partner colleges and universities award Posse Scholars four-year, full-tuition leadership scholarships."
The Posse Foundation partners with fifty-six colleges and universities in twenty-three states. These schools include those that Newman had available to her: Bucknell University, Lafayette College, Sewanee: The University of the South, University of Rochester, and University of Wisconsin-Madison.
The Posse program's scholars have experienced significant academic success over the years and, according to the Posse site, "Since 1989, 8,480 Scholars have been selected to attend top-tier colleges and universities throughout the country. Nationally, Posse Scholars have won $1.2 billion in scholarships from Posse's partner institutions and are persisting and graduating at a rate of 90 percent—significantly above the national average."
The Posse Foundation and its partner schools are focused on increasing the diversity of top-tier schools, and expanding opportunities for young people who may be overlooked by such schools.
Newman will be Paint Branch's third Posse Scholar, following in the footsteps of 2010 graduate Ashton Cane, who attended Pepperdine, and 2016 graduate Grace Padgett, who currently attends Wisconsin where Newman will enroll in the fall. Newman's Posse application highlights her academic achievements, along with her strong school leadership and involvement in clubs and sports. Newman is a Girl Scout and a member of the World Language and Science Honor Societies, the National Honor Society, and the Minority Scholars Program. She loves hanging out with her friends and going with them to D.C. In addition, she enjoys music and singing, and likes going zip lining and doing ropes courses.
Newman has also excelled at athletics, something she has been involved with since elementary school. She began playing field hockey in elementary school and finished her senior year playing for PB as a cocaptain. In the spring she will play for the varsity lacrosse team, where she hopes to bring strong leadership.
A big sports fan, Newman is excited to experience the environment at Wisconsin, which plays in the competitive and exciting Big Ten. "I'm excited to be a Badger," says Newman. "The culture of the school is really good."
Newman plans on majoring in either Biology or Genetics and would like to minor in Gender & Women's Studies.
The interview process for a Posse Scholarship has three parts. Newman recalls the first interview being peculiar, saying that they had to play games and a lot of activities in a group to see how they worked with other people and what their leadership skills were like. The second step was a traditional interview with Posse staff to review their grades and discuss their leadership and extracurricular activities on a professional level. The final interview was a group one, with a college official from the school she most wanted to attend.
After the process, Newman was thankful and overjoyed. "I was really excited," recalls Newman/ "I couldn't wait to tell everyone about it."
The final step in the process was one of celebration for Newman. On January 4th, Newman and her family gathered along with other Posse Scholars from the DMV area in the historic Lincoln Theater for a ceremony. At the ceremony, they held an open mic where parents got to say things about their children and express how proud of them they were.
Newman selected Wisconsin because it's huge on STEM, which is the field of study that she wishes to pursue. Wisconsin offers her a college experience that she wants, a school that is big in sports and has lots of activities to do along with rigorous academics.
Newman admits that she has not had a chance to visit the school yet, so she feels some trepidation regarding the start of school. However, Posse Scholars work together from January-August of their senior year in workshops that help answer questions, practice team building, and address academic excellence. Newman and her peers will be well-trained before school begins.
One other helpful piece for Newman is that she knows Padgett, with whom she will have Paint Branch, Posse, and the University of Wisconsin in common. This will create a nice familiarity for Newman, who is also excited to get to know others at the school.
"I'm excited to get to know the other people in my Posse and their different backgrounds. I'm a little nervous because it can be scary going to a far away place and not knowing many people, but I'm very confident in myself and my abilities to bring real change to the Wisconsin community and make relationships with other Badgers."