Under the Spotlight: Maryland Football Program Puts University in a Tough Spot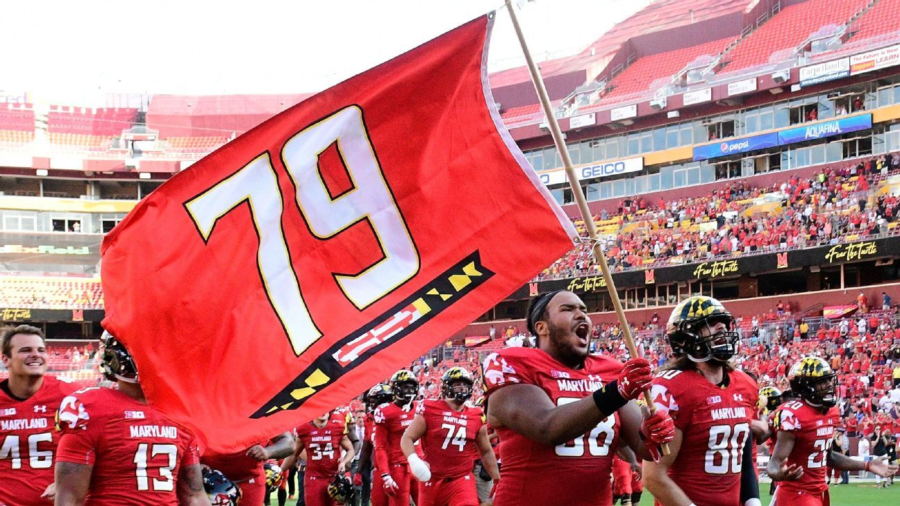 It was May 29th, 2018 in College Park, Maryland. The University of Maryland football team was in a team workout when offensive lineman Jordan McNair, a graduate of the McDonough School in Owings Mills, Maryland, collapsed. 911 was immediately called and McNair was rushed to Washington Adventist Hospital in Takoma Park.
Two weeks later, on June 13th, McNair died and the circumstances around his death caused major fallout for the state's flagship university.
It was the University of Maryland's botched management of the situation that become the centerpiece in this unfortunate episode. But while the public waited for a final decision on Durkin and Evans, the football team continued its season with a special emphasis each week on keeping McNair in their thoughts and using his memory as a source of inspiration.
The football team worked hard to stay focused each week as a cloud of uncertainty hung over the school. The players, under the immense pain of losing a beloved teammate, played well for interim head coach Matt Canada putting together a 5-8 record, but falling just a game short of bowl-eligibility.
The season saw some low points for sure. A complete shutout against Iowa, a heartbreaking lost to Indiana when quarterback Tyrell Pigrome fumbled late in the game to secure the Terps' fate, and losing their final game of the season against their Big-10 foe, Penn State in a blowout.
But there were some strong moments. The Terps started their season off with a statement win against the Texas Longhorns. There was also the mid-November classic against the Ohio State Buckeyes. The game had to go into overtime, and it came down to the Terps electing to go for the win with a two-point conversion. However, they fell just short as quarterback Tyrrell Pigrome's pass to receiver Jeshaun Jones fell incomplete, clinching the Buckeyes' win, 52-51.
But just a few days before their showdown with the Buckeyes, the Baltimore Sun's Jeff Barker reported on another unfortunate chapter in this saga. According to Barker, while on leave, D.J Durkin was still communicating with coaches about upcoming game plans. This was a clear infraction by both Durkin and the team. In the article, Barker explained the situation: "Whether university officials approved Durkin's involvement while on leave is in dispute. Durkin told the regents his activity was approved by athletic director Damon Evans, two sources said. And Durkin told the task force he was responding to requests for advice from the assistants and that the university had not limited such contact."
Barker added a statement from university spokeswoman Jessica Jennings, who said that Durkin "was not to perform coaching duties while on administrative leave…Matt Canada was performing all head coaching duties during this interim time and continues to lead the team."
The report came on the heels of a bizarre press conference in late October where the Board of Regents announced that Durkin and Evans would not be fired. The decision was met with swift backlash from the public, including UMD's Student Government, which threatened to protest the remaining football games.
Perhaps due to the uproar, the athletic department fired Durkin just a day later. The firing certainly did not stop the public turbulence however. Former NFL and University of Florida quarterback turned ESPN analyst Tim Tebow spoke about his anger with the program. Following Durkin's firing, Tebow, on ESPN's First Take, expressed anger over Maryland's flip-flopping. "You need to make a decision and you need to stand with it," said Tebow. "So many people want to be liked instead of being respected. And I think more universities need to stand by what they believe is right."
McNair's death rocked the world of college sports before the season began and has continued to shock people at both the national and local level. With College Park and Burtonsville separated by a little more than 13 miles and a significant number of people in the PB community having ties to UMD, the issue is certainly on people's minds.
Matthew Kiras, a junior and avid follower of Terp football, voiced his frustration with the program, but did acknowledge the need for a coaching change. "It was a horrible and careless error that could, and should have been, easily prevented," said Kiras. "I'm glad the person who should have been fired [Durkin] got fired."
PB English teacher Mrs. Powell, a graduate of the University of Maryland, spoke similarly on the issue, specifically on the mismanagement on the part of the university. "It was a huge mistake to bring back the head coach. Even if he [Durkin] had little to do with what happened, the fact that you considered bringing him back is foolish," said Powell.
The situation brought on a national discussion over player-safety and the treatment of players at all levels of sports. In regard to players safety, Paint Branch Athletic Director and longtime basketball coach Ms. Podosek addressed how PB's athletic department ensures safety. "We constantly preach that kids are the first priority. Our coaches have taken courses on heat-illness prevention, injury-prevention, CPR, and concussions," noted Coach P. "During our preseason in August, we have many cooling stations throughout the facility. We have jugs filled with ice water and sponges that players can grab anytime to cool off their bodies. In our meeting with parents, we always speak on player's health because at the end of the day, safety is the most important thing."
The PB Athletic department has taken many strides to make safety the number one priority. Only time will tell if UMD can say the same.