Busboys and Poets
Local Establishment Providing Inspiration Since 2005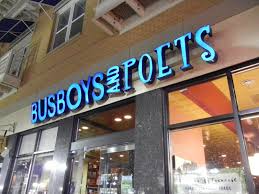 Hang on for a minute...we're trying to find some more stories you might like.
No franchise serves as a center of culture quite like Busboys and Poets. The establishment, founded by Andy Shallal in 2005, is a creative hub for artists, writers and other creators to form and share ideas. The compelling murals painted on its walls, soulful music humming through its speakers and constant buzz of chatter present creates an inviting ambience that truly draws you in.
The name was inspired by Langston Hughes, a busboy turned influential poet. Hughes' artistry and language serves as an inspiring basis for the company's uplifting spirit towards small artists and hidden, local talent. Starting as a small eatery in Northwest, DC, Busboys and Poets has expanded into a business with five locations scattered throughout the Washington metropolitan area. Busboys and Poets is a place where people from all walks of life can gather around a common love for art and culture.
Aside from its artistic purposes, Busboys and Poets offers a wide variety of dishes on its breakfast, lunch and dinner menus that are suitable for both adults and children. The kitchen even provides catering for important events. Patrons can enjoy a meal while listening to a poetry reading, comedy set, or a live musical performance. Events put on specifically for youth, such as Slam Poetry, are offered to create a welcoming environment for all ages. Each location also houses a bookstore for shoppers to spend time looking for the perfect new read. The book stacks include diverse selections such as international fiction and literary classics. Along with this comes monthly book clubs, author meet and greets and engaging story times for kids.
Focused on building community, the management from each specific location organizes events throughout the year that give people and their families a chance to meet the neighbors and get familiar with the community.
The company is also a champion for environmental sustainability. They use recycled paper and plastic, and fuel their locations with renewable wind energy. Also, their food items are fair trade, organic and grass-fed to promote healthy, clean eating. Busboys is a good example of an advocate for environmental protection and the future of our planet.
When asked what her favorite part about Busboys is, Camille Jackson, a regular at the Hyattsville location responds that she enjoys the atmosphere.  "The warm feeling makes you want to come back often," says Jackson.
A member of the Hyattsville community for five years, she has been coming to Busboys and calls it one of her favorite spots in the area.
Another patron, Ronald Adams, who admits that  he has only been to Busboys a few times, says, "My favorite memory is enjoying one of the short play performances with my family."
Busboys and Poets' seven locations include its newest in Hyattsville, as well as six other spots on 14th and V Street, 450K, Brookland, Takoma, Anacostia, and one in Arlington, Virginia. No matter whether you are a regular or a first-timer to Busboys and Poets, you are welcome. Visitors leave with inspiration and unforgettable memories, which is why a quick stop by is sure to fill you up and spark your creativity.