Derrick Rose's Basketball Journey a Long Road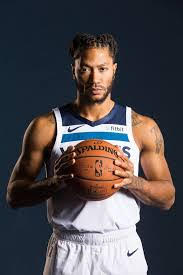 Hang on for a minute...we're trying to find some more stories you might like.
Derrick Martell Rose will definitely go down in history as one of  the NBA's most prominent and interesting players. From growing up in the rough neighborhoods of Englewood in Chicago to becoming the youngest player named League MVP ever in the league, Derrick, aka "D Rose," is easily one of the most liked and respected players in the league.
However, in order to fully grasp D Rose's unpredictable and up and down career, you must first look into how he got here, and what he had to do to perform at the level he's at now.
¨Most guys would have been retired,¨ said Rose in 2018 when talking about the ups and downs in his athletic career.
Well before Rose could reflect on his career and its topsy turvy road, he was just another kid growing up in a tough part of Chicago. Englewood has been called one of America's crime capitals, as it is home to a lot of local gangs and crime rates are high in the surrounding area. Rose's love for basketball kept him out of trouble, though, and it kept him determined to pursue his dreams of playing professionally.
Even though Derrick Rose was on the right path to becoming the next basketball phenom, his path still had bumps in the road. Before taking the court at Memphis in 2007, where he played for John Calipari, there  were allegations of him getting someone else to take the SAT for him so he could qualify, and talk of him somehow changing a grade on his transcript from a D to a C grade.
This led to the NCAA wiping out the whole season that D'Rose played for Memphis. That didn't stop him from  being the number 1 pick in the 2008 draft by his hometown team the Chicago Bulls, and winning rookie of the year in the NBA.
In his rookie year, Rose averaged 16 points per game, and just two years later he became  the youngest player to ever win the MVP award after posting the unbelievable stats of 24 points per game, 7 assists per game, and 3 rebounds per game. This set the standard high for Rose as everyone expected him to be the next league superstar, a guy who could lead  the Bulls to NBA titles and another legacy like the great Michael Jordan.
Rose's career suddenly went left as he experienced injuries the following season, which led to him tearing his ACL during the first round of the playoffs. The injury caused him to miss the entire 2012- 2013 season.  The next year Rose only played 10 games as a meniscus injury took him out for the remainder of the year.
Only 10  years in the league and the rising superstar, who had gone  through multiple knee surgeries in his career, had left fans with many doubts as to whether or not he had the capability to play like he used to.
When asked about how he felt about the ups and downs of Rose's career, superfan Ulttra WIlson said, "When he first came in the league in 08 it was amazing. Just watching him get to play was something very special. When he got injured it's like Chicago turned against him; they didn't understand where he was coming from, but we did."
As for what first made Wilson  a Derrick Rose fan, he responded with,"Just seeing him come from the south side Chicago, and seeing him make it out attracted me to him. Wilson, who is from Chicago, attended Rose's high school games and just recalled seeing superstar talent, and spectacular playmaking from Derrick Rose.
All of the injuries that he suffered caused him to transition from team to team in order to find a good match for him, and to adjust to a new style of play. In 2014-15 Rose moved from the Bulls to the New York Knicks.
After being traded by the Cavs and being released by the Jazz, Rose then signed a deal with the Minnesota Timberwolves. He reunited with his old coach from the bulls Tom Thibodeau, and then he got right back to business.
So far this  season, Rose has been scorching hot as he is averaging 18.7 points per game, 4.4 assists per game, and shooting 50% from the field and 48% from three pointers. Rose even had an unbelievable 50 point game, which was his career high, against the Jazz, the team that released him.
Rose's patience and diligence have proven that all it takes is perseverance and hardwork, long as you have your goals in your mind and determination in your heart, it can  take you a long way.
Rose easily has one of the most compelling stories in the NBA, and it will  be interesting to see where he goes from here.