Super Smash Bros Ultimate Review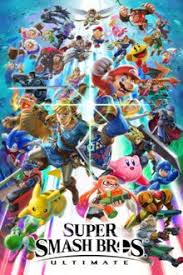 It has been 19 years since the 1st ever Super Smash Bros for the Nintendo 64 came out. The 5th entry of the series came out on December 7, 2018, and brought everyone new features, better online play, and a brand new adventure mode with an amazing theme song. This Super Smash Bros game might be the best one in the series.
Any look at the new game means starting with the characters. The game has  74 fighters on the disc. When first starting you will have 8 out the 74 playable fighters and you gradually increase the number of fighters as you progress. The whole roster has every character in smash history while adding a few newcomers like Ridley from the Metroid series, Simon Belmont from the Castlevania series, Ken Master from the Street Fighter series, and even Piranha Plant from the Mario series. This game will not leave out a single character.
Also,  there are many new and fresh features coming to the game. Some of the features include 103 classic and new stages, 800 classics, new, and remixed versions of classic music tracks from more than 32 different series. Hundreds of new and returning items, pokemon, and assist trophies add to the features. Brand new mechanics that change how you play Smash factor into its overall quality, as do return modes like the tournament, classic, all-stars, and 8 player smash, and new modes like squad battles and spirits.
The most exciting thing coming to Smash 5 are not these modes, it's a brand new adventure mode that has you traveling around the world collecting the fallen fighters and defeating the new antagonist, Galeen, the lord of light, to restore peace across the universe.
The gaming community is getting excited about this enormous game. The game is getting a lot of praise from the gaming community. Will this game be the best game in the series? You need to buy the game and play it. Super Smash Bro Ultimate was released out on December 7 for the Nintendo Switch. Don't miss out and start smashing it up.