Is Something Brewing with Howard Schultz for 2020?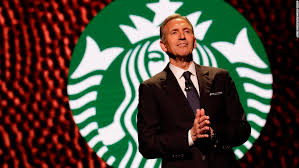 Hang on for a minute...we're trying to find some more stories you might like.
Earlier this month, former Starbucks CEO Howard Schultz drew significant attention from national political pundits when he announced that he had a strong interest in running for political office, most notably, the presidency.
According to Sarah Witten of CNBC, "It has been long speculated that…Schultz would run for president, but the 40-year coffee veteran isn't announcing anything yet."
The sixty-four year old is very active in politics and, according to Witten, has been known to leverage "…his position at Starbucks to speak about the role public companies could play in society. During his tenure at the coffee chain, he pushed to give opportunities to veterans and refugees and expanded health benefits and college tuition assistance to workers."
According to Business Insiders writer Kate Taylor, Schultz has not always enjoyed a life of wealth and privilege. According to Taylor, Schultz is a Brooklyn, New York native and is "he child of two high-school dropouts," who "grew up in a public housing project."
As a candidate, it is presumed that Schultz would have a fairly liberal platform as during his time at Starbucks, he worked to address mass incarceration and a lack of public funding for education in several states. While he has been credited with reviving a fading organization at Starbucks, Schultz has never held elected office.
So, where does Schultz fit into the Democratic field? That question has drawn significant attention as Schultz seems to be a Democratic candidate with centrist views. However, the married father of two has expressed that he is more likely to run as an independent candidate.
Lisa Lerer of The New York Times took a look at some of Schultz's views and notes, "In short, he's an economically conservative, socially liberal businessman espousing a set of views that you tend to hear repeated a lot at Washington book parties, but not so often from actual voters."
Lerer was specifically referring to an interview Schultz gave to The Times in which he stated, "When I hear people espousing free government-paid college, free government-paid health care and a free government job for everyone — on top of a $21 trillion debt — the question is, how are we paying for all this and not bankrupting the country?"
If Schultz does decide to enter the race, he will certainly bring an interesting element to the 2020 bid for president. The initial reaction to his possible Independent run has met significant opposition from Democrats, who worry that Schultz could act as a spoiler and take away from the Democratic candidate who makes it out of the crowded Democratic field.
The Republican front has been fairly quiet, though President Trump did tweet about a Schultz bid saying that the former Starbucks CEO "doesn't have the 'guts' to run for President!"