Exploring the Detainment of 21 Savage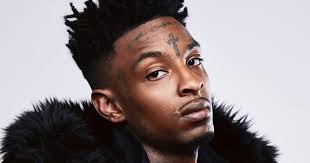 Hang on for a minute...we're trying to find some more stories you might like.
Fans and fellow musicians were in shock when they found  out that Atlanta rapper 21 Savage, along with his cousin, Quantavious Thomas – better known as Young Nudy, were arrested on February 3rd. What many suspected was just another arrest of a  famous rapper turned out to be much more. Fans would soon find out that 21 Savage was, in fact, born in the United Kingdom and, according to police, he was arrested for failed to depart under the terms of his nonimmigrant visa.
21 Savage, whose real name is Shéyaa Bin Abraham-Joseph, was thought my many to hail  from East Atlanta, a place many refer to as "Zone 6" due to the fact that Atlanta is split into zones. However, his story begins in Plaistow, which is a district in the West Ham area of the London Borough of Newham in east London. Born in  1992, his parents are of Dominican and Haitian extraction. His parents split and at the age of 7 he and his mother left Plaistow for Atlanta, Georgia.     
21 Savage hit the scene in 2015 with his mixtape "The Slaughter Tape." Since then, he has gained a great amount of stardom including two Grammy nominations.  Days before his arrest he performed the single "A lot" from his new album I was>I am on The Tonight Show.  It was this performance that drew much attention after his current situation came to light. A newly added verse to the song, which addressed the wrongdoings in America today, immediately began trending on pretty much all platforms.
Response was mostly positive on social media with people praising Savage for "using his platform when others wouldn't." Various music outlets such as Pitchfork and XXL described the performance as "soulful." However, others seemed to be listening as well and did not like the message. This brought to light the possibility that Immigration and Customs Enforcement (ICE) responded to what the government saw as a critique and fast-tracked his arrest on immigration related charges. Others say his arrest was nothing more than his connection to a cousin who had a warrant as well.
All of this makes me wonder why ICE and the US government is so focused on an individual who really has not done anything intentionally wrong. Savage is a person who has shifted his image in order for the kids growing up in Zone 6  to see and hear a positive influence out of the city. From his financial literacy programs for minorities to his back to school drives in his neighborhood, Savage has changed his image for the better and contributed to the development of his community.  
From the start 21 has been a rapper known for his real but violent source material. This made his songs  a magnet for law enforcement even before his fame. A Gun and drug charges that he faced in his early years were recently expunged. This is why it seems so odd that this attention has been placed on him and this arrest was made just when he has hit a point in his career that should be celebrated.
You have to wonder why, with his criminal record, wasn't  his place of birth already known. The problem spawns from his visa, which was first used when he was just 12. At that time it was used for only a month and then never used again, so it expired along with his family's  work visas. In 2017, a much older and educated Savage filed for a U-visa, which ICE was aware of but did nothing about. With all of this information available to them, it makes little sense that ICE took action right now. If you look at his intentions and his history, he was basically on-point with what he needed to do.
All of this has actually cost Savage some fans as this new information has resulted in some backlash. After finding out he wasn't actually from Atlanta, it seemed as if the public turned on him. Many questioned his "street cred" while others made fun of the situation on various social media platforms.
Ultimately, ICE attempted to turn people against him by issuing a statement saying that "his whole public persona is false," but the real fans know that Savage is and will always be the real deal.