NFL Draft 2019: In a Draft Full of Big Lineman, One Little Guy is all the Rage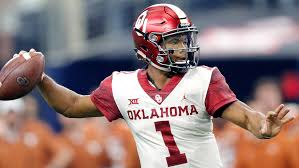 Hang on for a minute...we're trying to find some more stories you might like.
Now that the NFL Combine is over, "pro days" have happened, and teams have had a chance to look at the top guys, all eyes turn to speculation. It is the time of year when everyone starts predicting just who gets drafter and when. Many people are saying this draft class isn't that good and that there is limited depth in the draft. While that may be true, there are some key players in the upcoming draft to keep an eye on when the clock starts ticking.
The top player on most boards is quarterback Dwayne Haskins out of Ohio State – and the Bullis School in Potomac. At the combine, his 40 time wasn't all that great at 5.04, but what he lacked in speed he made up for in his throwing ability. At Ohio State Haskins impressed scouts with his 2018 stats throwing for about 4,831 pass yards and 50 touchdowns. Teams like Tampa, Giants and even the Jaguars are in need of a quarterback and would love to get their hands on Haskins. Could he be that guy to make a difference out of these franchises?
The number two pick should be Alabama defensive linemen Quinnen Williams. Williams impressed scouts with the 40 time he put up. At 303 pounds, Williams ran a 4.87 as his first unofficial time then ran a 4.83 as his official time. This defensive linemen terrorized QB's in his time at Alabama with eight sacks in 2018. He also made plays in the backfield, constantly making no gain plays and tackles for losses.
The third pick should be wideout D.K Metcalf of Mississippi. Metcalf was a freak at the combine running a 4.33. The fact that he is built like a linebacker at 6'3 and 228 pound means that I can see him playing defense – probably safety – but the offensive side of the ball is where he'll make his living. Metcalf also benched 225 pounds 27 times, which means that this guy is a beast. Not only is his size, speed and strength scary, but Metcalf's jumping is outstanding as well. Metcalf is one of only five receivers with a vertical jump of 40 inches or more; he finished fifth in the receiver broad jump as well. The shuttle was Metcalf's weakest drill running the 20 yard shuttle in a time of 4.50, but the speed and explosiveness he displayed elsewhere will make him a great pick at the draft.
The fourth pick should be Andraez "Greedy" Williams, the beast from LSU, who ran a 4.37 at 185 pounds. This guy can ball and at LSU, for his 2018 season, he had 22 tackles, which isn't bad for a cornerback. He also had 2 interceptions and 9 pass deflections. This corner is truly a baller and scouts say if he puts on more muscle and weight he could be a top 10 corner in the league. I have him rated among the top corners in the draft because I think he is a sleeper pick. Williams can make some real noise for teams like the Raiders, who pick fourth, or Rams who look like they're in need of a new corner. I see Williams going early or late first round. Williams reminds me of a Denzel Ward just from his body type and the fact that people didn't think Ward was going to go so early in the draft last year.
The fifth pick should be Nick Bosa, though some feel he should be higher because he was great at the combine. Scouts say he could be the first defensive player off the board because of his explosiveness on the field. His combine stats were just amazing. Bosa ran a 40 of just 4.79, but he weighs 266 pounds and at about 6'4 in height, I see Bosa going early to the 49ers who are in need of some beef up front on the defensive line. I'm pretty sure other teams would want to pick him up but he's most likely going early.
The 6th pick should be linebacker Devin White. I really think he could go to a team who is need of a linebacker like the Rams,Cardinals, or even the Raiders. However, I don't see him going that late or that early. White at pick eight to the Detroit Lions who have been struggling in the run game in recent years could benefit by bringing White on board. He could make a huge difference in the run stop ability in Detroit and this could take pressure off the big roles of Darius Slay and Ezekiel Ansah. Another good fit would be the Ravens who lost CJ Mosley, so they will also be looking for an inside linebacker.
The seventh pick should be a treat because this is defensive line draft, but I think it's going to be Josh Allen out of Kentucky. This outside backer is one of the top rated pass rushers because of his speed and power off the rush. Just last year had 17 sacks and 21 tackles for loss along with five forced fumbles. This animal from Kentucky could make a big impact to a team like Oakland who recently lost Khalil Mack, their best defensive player. I think Allen can fill those shoes.
The eighth pick should be Kyler Murray, the Heisman winning quarterback out of Oklahoma, who has skyrocketed up people's draft charts. He impressed me during his pro day. I thought he wasn't going to go high, but looks can be deceiving. Murray lit his pro day up, so you can tell Murray is ready for the pressure of the big leagues. Many scouts say Murray's release is one of the fastest and most efficient they have seen in a long time. The only downfall for Murray is his size as he is only 5'10" which is pretty short compared to your average NFL quarterback. But Murray's gunslinging arm will give him a good pick in the draft, which is why you should look to the Cardinals or Broncos who are having a little bit of a QB crisis right now. Even though the Broncos just signed Joe Flacco, Murray could easily take that job.
The ninth pick should be tight end T.J. Hockenson from Iowa. This TE could be the best in the draft because of his size and he can block and can catch. He is a big boy weighing in at 250 pounds. Though he is not the fastest TE, a team like the Redskins, who have been struggling to find consistency the last few years, this could be their go to guy after Jordan Reed's injury – actually their whole team always seems to be injured. T.J is a great option for them just because they need another weapon for new QB Case Keenum.
Last but not least, the tenth pick should be Drew Lock, the QB out of Missouri. He is one of the best quarterbacks in the draft. Lock knows when to throw the ball and when to tuck the ball to run. Scouts say Lock will probably end up with Washington or the Broncos. Even though these teams have just signed QBs, these rookies are ready for the challenge and people say Lock's awareness on the field is outstanding on reading defenses. How he will fare against NFL defenses and how they disguise their defenses is yet to be determined.
My list is organized the same way many teams arrange their draft lists – according to "best player available." This means that my top ten players may not be the first ten picks actually "off the board," but they are the guys who I think belong on the top of each team's draft board.