Is Six Flags better than Kings Dominion?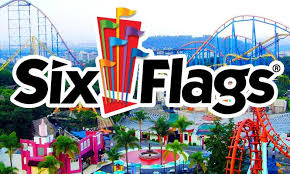 I've been going to Six Flags with my family for years. It's safe to say I have been to Six Flags about a dozen times. Some visits were more fun than others, but I can't recall a time that I didn't enjoy my stay. One summer, my family and I decided to take a visit to Kings Dominion to get a sense of the other big park in our area. What we found there was that it also had  many fun things to participate in and a lot of great rides. This made me wonder, which park is better?
At Six Flags and Kings Dominion, there are fun activities for kids of all ages such as rides, roller coasters, arcades, pools, shows and slides. While I've only been to Kings Dominion on a few occasions, I'd say Six Flags has better options regarding those activities. If you aren't someone who is really into roller coasters than Six Flags has an arcade that will make you not want to leave, fun water rides, and multiple merry-go-rounds that don't leave you in fear.
If you are a roller coaster person than Kings Dominion is likely the better choice.  I remember seeing a roller coaster at almost every corner. Compared to Six Flags, Kings Dominion has the edge with faster and scarier rides.
The issue with Six Flags is the prices for food.  In 2018, a "Single Day Meal Deal" that features a main , a side, and a beverage, costs $14.00 at Kings Dominion according to cpfoodblog.com, the website for the group that runs concessions at the park. An all-day dining plan is $30, which means you can eat every 30 minutes. The downside of that all-day dining plan is that there is no drink included. Kings Dominion forces you to spend extra money to pay for a drink that could have easily been added to the plan, so that's a negative on the food front for them. Six Flags offers a double bacon cheeseburger for $13.49 at Johnny Rockets and a corn dog costs $10.99. Certain people will have opposite viewpoints on which they'd prefer.
Whether it's your first visit or your tenth, both amusement parks will provide you endless opportunities to make the day worthwhile. As long as you are willing to compromise with their rules and regulations and spend some pretty serious money on food, the visit will have you leaving the park thinking about when you can  come back another day in the near future.