A Way Too Early AFC North Prediction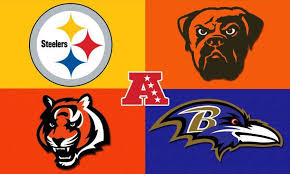 With more than two months remaining before the NFL season starts, it might be a bit early to start making predictions for the season. However, when it comes to the NFL, nothing is out of the question; so let's take a look at one division that should be a real battle this year: the NFC North.
Based on last season and the off-season so far,  I have the Cleveland Browns in first place. The Browns have made every possible move this offseason from acquiring wide receiver Odell Beckham, Jr. to putting work in on the defense. With second year quarterback Baker Mayfield running the offense,  the Browns could make it to the playoffs. In fact with this powerhouse of a team and pro bowlers at every possible position on the field, the Browns could easily go 11-5.
In second place I have the Baltimore Ravens, simply because of the great fusion of youth and veterans on the team.  The Ravens also made good picks in the draft and some solid additions in the offseason. The Ravens picked up long time Seahawk safety Earl Thomas this offseason which was good because they lost Eric Weddle to the Rams.  Although they lost players – including linebacker CJ Mosley to the Jets – they made up for it in the draft, picking some good sleepers. With the recent loss of the long time vet pass rusher Terrell Suggs to the Arizona Cardinals, the Ravens picked Jaylon Ferguson to fill in that big role. I have the Ravens going 10-6.
In third place it will be the Pittsburgh Steelers. The Steelers have always been one of the toughest teams in the league, but this year the team could miss the  playoffs. With receiver Juju Smith-Schuster continuing to grow and lead this team, the Steelers could be dangerous. With TJ Watt on the other side of the ball at linebacker, their  defense isn't going to be bad either. Based on what they lost, including Antonio Brown, I have the Steelers splitting even with the Ravens at 10-6.
In last place it has to be the Bengals. I don't have anything to say about this team overall because mostly they've been  basic. They did make some good picks in the draft including Janah Williams at guard, Drew at Sample tight end and Germaine at Pratt linebacker  but nothing really to get them over the hump. They do have a QB in Jeff Driskel, but having him as a franchise guy is not really a good call; so I don't think he's the guy to replace Andy Dalton. So, for now, Dalton stays the starter. I have them at 5-11 and, as they often do, they might still ruin some playoff chances for other teams.