The Timeline and Wake of Hurricane Dorian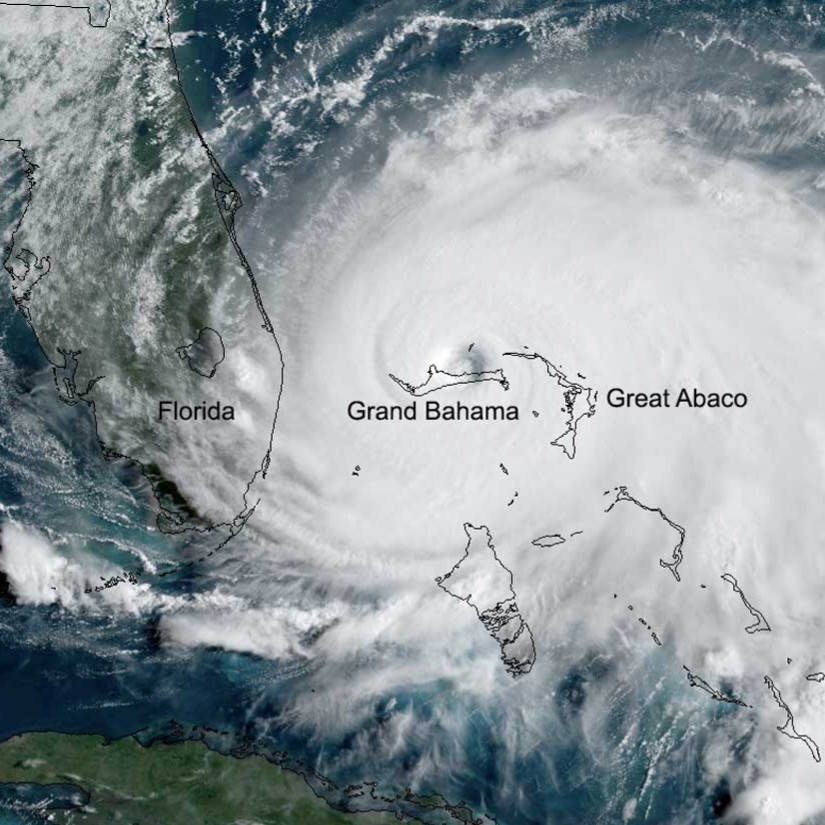 What started out as a tropical depression in the Caribbean islands formed into a devastating hurricane, stretching up the east coast of the United States and leaving a trail of devastation in its wake. Hurricane Dorian as the World Meteorological Organization named it, has proven itself the second strongest hurricane (as far as wind speed) ever recorded in the Atlantic.
On August 24th, The National Hurricane Center sent out the first advisory of the "Tropical Depression" with 35 mph winds, and by August 28th, Dorian had evolved into a Category 1 storm hitting the U.S. Virgin Island of St. Thomas with 80 mph winds. While no severe damage was caused in the area, island wide power outages occurred.
  Within a matter of four days, Dorian increased to a Category 5 with sustained winds of about 185 mph. The hurricane soon barreled through the Bahamas, exerting the worst of its power. The Bahamas' Abaco islands suffered first, as Dorian destroyed thousands of peoples' homes, telecommunication towers, water wells and roads. Little to no water, sanitation, medicine or electricity was available in the wake of the storm's path. In towns like the Marsh Harbour, which served as a refuge for hundreds, if not thousands of migrants, a vast majority of the infrastructure was shattered. 
A day later, the eye of the hurricane traveled across the Grand Bahama island. More than 60% of the entire island was submerged midday Tuesday according to Iceye SAR Satellite Constellation. In addition to this, Dorian caused an island-wide power outage,  ruined a reported 300 homes, and caused heavy damage to an oil refinery. 
The death toll in the Bahama officially increased to 50 people as of September 9th  (42 in the Abaco Islands, 8 in the Grand Bahama islands) according to NBCNews.
According to CNN, the death toll is expected to rise while the number of missing people,  1,300 at current count, is expected to fall as more and more missing people's names are submitted through hotlines and social services offices. 
Following its tragic reign over the Bahamas, Dorian  grazed past Florida with its eye at a relatively safe distance. The Sunshine State felt tropical storm force winds of approximately 45 mph, power outages and flooding.
Although Hurricane Dorian somewhat spared Florida, it shut down over power in 270,000 homes and businesses' in South Carolina as it gained strength and increased to a Category 2 storm and then  a Category 3. The entire city of Georgetown, South Carolina was without power according to The Post and Courier. Flooding hit Charleston catastrophically as Dorian gained strength. Over 1 million people in the Carolinas altogether were subject to a mandatory evacuation. 
The Bahamas without a doubt suffered the most from Hurricane Dorian's 3 week rage. 50 casualties accounted for, 1,300 missing people unaccounted for, 70,000 people without homes, and $7 billion dollars in property damage. Anyone interested in donating money to support the recovering nation can donate by phone to The American Red Cross at 800-435-7669, online at https://give.helpsalvationarmy.org/give/166081/#!/donation/checkout, or visit https://www.cnbc.com/2019/09/04/how-to-help-victims-after-hurricane-dorian.html for more options. Even the smallest of donations make a difference.