Panthers Crush Blue Devils in Rivalry Game
Multiple Fights in Crowd Affect End of Game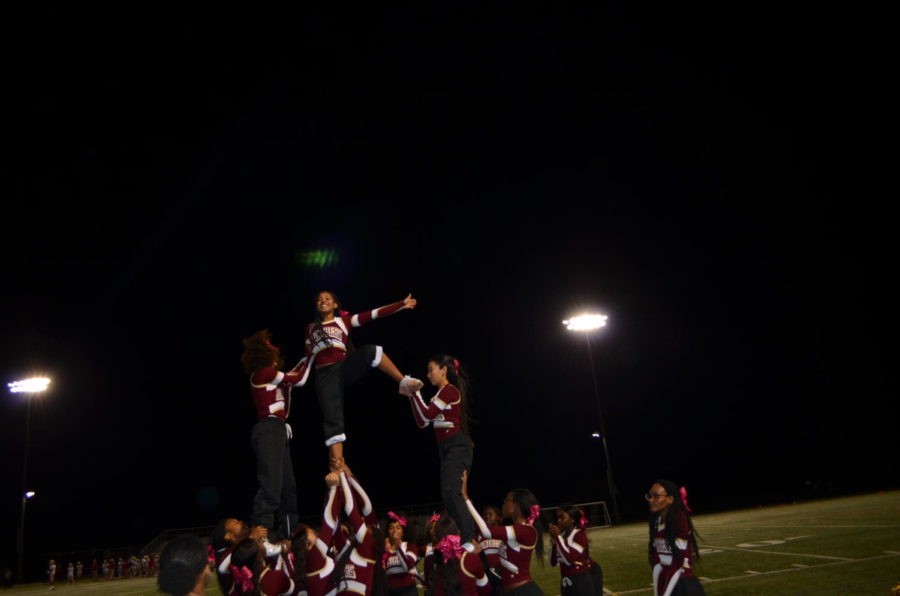 On September 20, the Paint Branch High School varsity football team took on their biggest rival, the Springbrook High School Blue Devils, in what turned out to be an easy win for the Panthers. They scored 50 points with 8 touchdowns and dominated the Blue Devils. 
The exhilarating game was cut short, however, with approximately four minutes remaining; as officials called the game due to an incident that occurred in the stadium.
Paint Branch's band performed an amazing cover of "Locked Out Of Heaven" by Bruno Mars to fire up the crowd, and then the poms and cheerleaders performed an astonishing routine as they welcomed the Panthers to the field. 
The Panthers began the game with an opening kickoff, already scoring 20 points and 3 touchdowns, while the Blue Devils scored none, in the first and second quarter each, totaling 6 touchdowns. 
In the first quarter, one of the top players for the Panthers, Irabonoise Oniha, a junior receiver, caught a successful 21 yard pass from sophomore quarterback Octavian Smith to open the scoring. The Panthers also completed another touchdown pass, this time from Smith to Isiah Russell for 26 yards. The Panthers then scored three more touchdowns, which were made by Russell, Oniha and senior Samuel Doku. The Blue Devils unsurprisingly didn't score as the Panthers controlled play. 
In the second quarter, the Panthers began their attack right away by quickly making two more touchdowns. These scores came from Doku, again, and senior Wisdom Agbeyome. Soon after,  the Panthers made a pair of successful two-point conversions. Another touchdown by Russell essentially put the Blue Devils away for the night with the score 43-0 at the half. 
In the third quarter, junior Elijah Williams ran one yard for a touchdown to add to the Panther lead. 
In the fourth quarter, the Blue Devils' Elijah Lindsey missed a two-point conversion after a 72 yard touchdown pass to Anthony Gomez, who plays defensive back and wide receiver for the Blue Devils. This got Springbrook on the board and cost PB the shutout.
In spite of all of this success for the Panthers, the remaining five minutes of the football game took a negative turn as a violent confrontation "…between a young adult and a Springbrook female student at the concession stand" blossomed into a brawl, according to Paint Branch Principal Dr. Yarbrough, who provided information to the community via a public letter.
Montgomery County Police immediately responded to the incident, increasing their presence "…to make certain that everyone got home safely" reported Washington Post writer Martin Weil. The Springbrook student and the young adult were quickly arrested and charged with assault and disorderly conduct. 
Despite the catastrophe at the end of the football game, the event was an overall joy to be at for Panther fans as they celebrated a dominant on-field performance. The Panthers effortlessly claimed victory against the Blue Devils with their hard-earned skills.