U.S. Women's National Soccer Gets a New Coach Ahead of the 2020 Olympics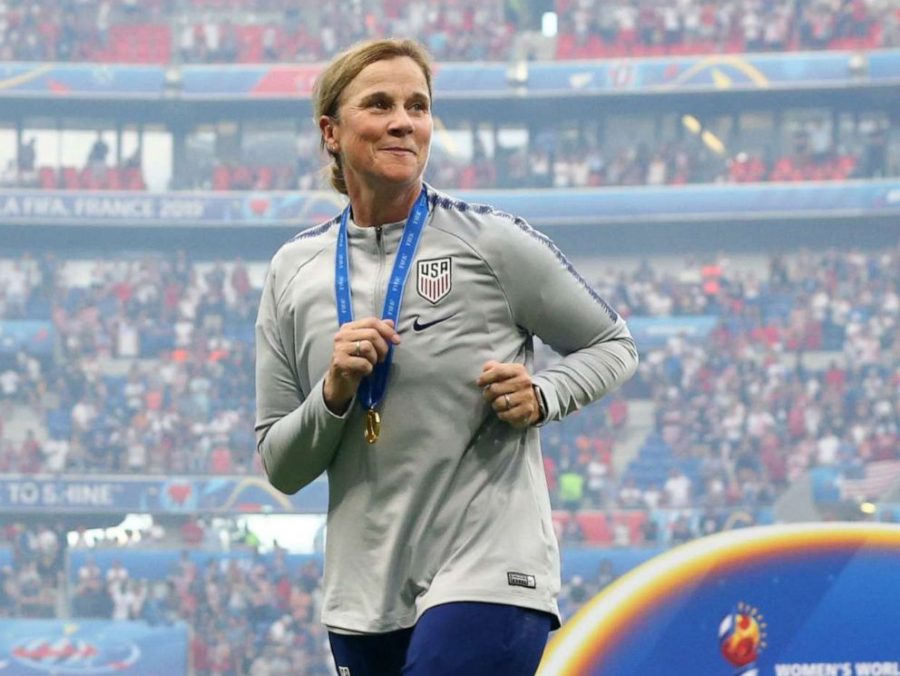 Jillian Ellis, the coach responsible for the US Women's National Team's (USWNT) recent Women's World Cup win, announced she was stepping down in late July. Ellis served as Head Coach for five years, and led the national team to two consecutive World Cup victories and eight total tournament victories. "The timing is right to move on and the program is positioned to remain at the pinnacle of women's soccer," she said in a statement from U.S. Soccer. Her last game, an October 6th 1-1 draw versus South Korea, wrapped up her impressive tenure as the most successful coach in USWNT history.
Named FIFA's 2019 Coach of the Year, Ellis had a record-breaking win to loss ratio with 106 wins, 7 losses, and 19 ties. Under her leadership, her team averaged 3.1 goals per game, conceded an average of 0.5 goals, and 63 percent of her 132 games ended in a shutout. It would be an understatement to say that the next coach has some big shoes to fill.
USWNT General Manager Katie Markgraf headed the selection process, and by October had narrowed her search to two primary contenders for the position: Utah Royals FC Head Coach Laura Harvey and Reign FC Head Coach Vlatko Andonovksi, current coaches in the National Women's Soccer League (NWSL). Both boast impressive resumes including Harvey's 10 years of experience, two "NWSL Coach of the Year" titles, and her successful four-year run as Arsenal Women's coach.
Vlatko wowed Markgraft and the search committee during his in-person interview, according to Jeff Kasouf of the soccer news site The Equalizer. Kasouf reports that "He showed up…with 16 mini-presentations — not a 16-page presentation, but 16 individual topics — for U.S. Soccer, ranging from tactics to team culture and his long-term vision for the youth program." Vlatko has always been known for his over-preparedness and attention to detail, and this is what made him a standout candidate. At an October press conference, Markgraft said that, following the meeting, the decision to choose Vlatko for the position was unanimous.
Before entering the NWSL seven years ago, Vlatko hadn't yet made a name for himself, but through hard work and preparation, he was able to climb the ranks and gain recognition for his coaching ability. Vlatko came into the NWSL at its inception as head coach for the former club Kansas City FC. In his first year, despite lack of funding and mismanagement from the club's owners, he was able to get them to the championship, and in subsequent years, two consecutive victories in the title game. Before the club folded in 2017, Vlatko quit and moved to Seattle Reign FC. In Seattle, he took a team that had finished in fifth place two years in a row and got them to the playoffs. In 2019, Vlatko had, arguably, his finest year as a head coach as he took a team that faced seemingly insurmountable challenges further than anyone expected. At one point there were 12 players — including star-player Megan Rapinoe — on the injury report, six with injuries that were season-ending.
This was only exacerbated by the World Cup call-ups that prevented eight players, most of them starters, from playing for nearly half the season. Normally, a team would be crippled by this much adversity, but Vlatko executed what Neil Morris of The Equalizer calls "aggressive mid-season maneuvering" and against the odds was able to get his team to the playoffs for a second year. It's because of this perseverance and ability to improvise that he was voted 2019 NWSL Coach of the Year.
Although Vlatko has cemented his reputation as an outstanding coach, he hadn't had any international experience, which critics weren't afraid to point out. Subsequently, the pressure was on in early November after he took over the USWNT at his first two exhibition games against Sweden-one of the only teams to beat the US in the past five years-and Costa-Rica. He made a few changes to the roster, calling up players from past years as well as new ones, but it largely remained the same with most of the players from the World Cup announced as well. Many of the star players — Rapinoe, Alex Morgan, Kelly O'Hara, Crystal Dunn and a few others — were unavailable play due to injuries, so these games saw a lot more bench rotation as well as first caps for a few players. The games ended in a 3-2 victory, and a 6-0 victory, and demonstrated that, although he still has some kinks to work out, Vlatko is prepared to continue Ellis's momentum.
The 2020 Summer Olympics will be Vlatko's opportunity to show that he can take this team in an upwards direction. He has just two months before Olympic Qualifying starts, and then he'll be tasked with selecting the 18-player roster (five fewer players than the World Cup Roster) and then developing those players into a gold-medal winning team, something that Jill Ellis was unable to do in 2016.
Everyone from fans, to critics, to the players themselves expect the USWNT to win every game they play, and with a roster as talented as the current one, it's not an impossible task. So far, Vlatko has proven that he has the drive, the preparation, and the ability to make that a reality and take the team to the next level.