The Case for Corollary Sports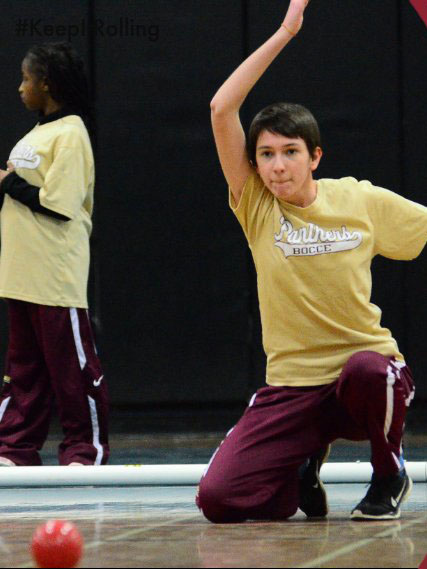 Picture this: a high school sports game. The crowd is tense and the players are fired up. Suddenly the ref announces that the home team has scored- the crowd erupts into cheers. The image is familiar, but this is not football, basketball, or lacrosse. It is instead varsity bocce, one of three corollary sports offered in MCPS.
Corollary sports are school teams made up of a mixture of players with and without disabilities. The program began in MCPS in 2010 and includes handball, bocce, and softball, although Paint Branch only offers bocce and softball. (Handball is similar to basketball, and bocce involves rolling balls to get close to a target.) While aimed at students with disabilities, corollary sports offer great opportunities for all.
A primary objective of the initiative is to be accessible to students with differing abilities; for example, bocce players may use various tools to roll the ball if they have a disability which prevents doing so in the conventional manner. However, corollary sports also take up less time than other sports, making them a good choice for anyone who does other extracurriculars or does not want a massive time commitment. For instance, I both play bocce and participate in theater. Corollary sports also do not involve tryouts.
Thus, corollary sports are inclusive to people of varying abilities and accommodating of students' other needs, making them ideal for anyone hesitant about joining a sport due to time constraints or apprehension about tryouts.
This accessibility is especially important due to the numerous benefits of participating in any school sport. Handball and softball require players to get exercise on a regular basis- vital, when the CDC says adolescents aged six to seventeen should get 60 minutes of physical exercise a day. Sports also lead to improved focus, better problem-solving skills, and higher academic achievement. The need to stay eligible to participate in sports also creates an incentive for students to keep their grades up. Plus, all three corollary sports offered in MCPS are varsity teams, which look excellent on college applications and resumés.
There are also emotional benefits associated with school sports, like leadership opportunities, increased self-esteem, interpersonal skills, and team spirit. The emotional boost from simply being a part of such an inclusive environment, especially for special education students who may feel alienated from mainstream student culture due to their differing abilities, is invaluable.
Finally, corollary sports are fun! I have found corollary bocce to be an extremely positive sports experience. The players, coaches, and spectators are encouraging and not overly intense, but- contrary to some people's conceptions- the sport is still competitive; there is nothing like a close-call bocce match where the final outcome is down to one roll that could either win or lose the game for your team. Still, every game of bocce I have ever played or attended has ended with displays of sportsmanship and camaraderie. My older brother, who uses a motorized wheelchair, credits bocce with helping him make friends with a variety of people, all united in competing together. Corollary sports are full of support and passion, and all should feel welcome to join.
When the program began, only six MCPS schools had corollary teams. Now, there are over twenty. Hopefully, the program will continue to grow. If you are looking to try a new extracurricular, join allied softball this spring, or bocce next year. No matter the outcome of the games, any sport with such a great community of people and so many positive impacts, while being both competitive and a ton of fun, is a win in my book.