Going Outside During the COVID-19 Pandemic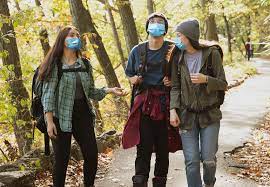 Are you tired of staying inside all day? Worried about going outside during COVID? Trust me, you're not alone.
The coronavirus (COVID-19) pandemic has affected activities for many people. Restrictions caused by the pandemic have led to canceled festivals, concerts, school sports, extracurricular activities, and many other events. Many vacations and large celebrations have been limited or put on hold due to these restrictions.
But we know that being outside is good for us. Nature and fresh air can help us relax and feel less stressed, which most of us could use!
Despite the changes in our daily lives caused by the COVID-19 pandemic, there's still plenty of fun to be had. In fact, seeking out fun activities is more important than ever. Doing something you enjoy can distract you from problems and help you cope with challenges from COVID. 
But as nice as it is to physically see people, it's important to remember that the rules of social distancing placed by the Centers for Disease Control and Prevention (CDC) – which state, "Prepare transportation, limit contact when running errands, chose safe activities, keep a distance at events and gatherings, and stay distanced while being active." 
This means that one should allow plenty of space between you and others while doing outdoor activities like walking, running, hiking, rollerblading, and biking. Outdoor activities pose a lower risk of spread of the COVID-19 virus than indoor activities do. Depending on the weather where you live, many activities may be available, especially as the weather begins to warm up.
Jennifer Hernandez is a freshman at Brentwood Freshman Center in Brentwood, New York (and a really good friend of mine) who loves the outdoors. She looks forward to getting back to a more normal routine but knows it is important to be safe. Jennifer says,  "I'm a very outdoorsy person. COVID does make going outside and my daily activities like biking harder for me but, I live with my two grandparents so I have to try the best I can to keep them safe and not get COVID myself."
Being outside also offers an emotional boost and can help you feel less tense, stressed, angry or depressed. And sunlight can give your body much-needed vitamin D. According to Sarah Vanbuskirk's article "The Mental Health Benefits of Sunlight," "Those warm, yellow rays help the body make vitamin D, an essential nutrient the body needs to function properly, and the body can't absorb or process calcium without it."
Leslie Parker, a junior at Springbrook High School, is sick of staying inside all day and really misses going outside. Leslie expresses she hates being inside all day long and is worried that it is detrimental to her health. "Staying inside all day is really boring. I'm planning to go outside more (even though the pandemic exists) because the lack of vitamin D has been getting to me. I've been having really low energy lately and more tiredness," she says.
Remember to read your local guidelines and rules for more specific information regarding the COVID stats in your state, city, or town. According to a blog post for Northwest Primary Care (NWPC), a health care center in Portland, Oregon, "Start by checking your state and county's visitation guidelines before venturing to your favorite outdoor spot. From there, read your county's website to answer common questions about park openings, bathroom or sanitation facilities, temporary restrictions, and closures that may impact your time outdoors." 
One key element of protecting yourself and others is to follow key sanitation measures. Again, NWPC states, "Washing your hands frequently, especially if you've been in contact with any surfaces. If hand washing isn't an option, use hand sanitizer that contains at least 60% alcohol. Avoid touching your face with unwashed hands. Always remember to cover your coughs and sneezes when beyond your home. Wear a face mask or cloth covering to help protect others." 
So go ahead – go out for a walk, ride your bike, or hit up that running trail you've been meaning to visit. Just remember, we're still in a pandemic and you still need to practice good social distancing, even outside. With the right information, you can make thoughtful choices about ways to bring a sense of normalcy and joy to your life during the COVID-19 pandemic.