Money's Unfortunate Toll on Sports
A very popular saying you've probably heard before is "money makes the world go round," which is indeed true as money is omnipresent in our lives whether it is buying your Cheerios at the supermarket, purchasing tickets for a movie, or buying in-game currency that you waste immediately on a useless cosmetic item that you desire. 
Globally, one thing most people like is sports, and not surprisingly that involves money, a lot of it. Everyone knows that equipment, players' salaries, and other related costs drive up spending and this impacts how fans and spectators feel about their favorite teams and sports. 
Fans and spectators are often frustrated by the choices leagues and teams make and the incessant commercialization involved in professional sports. On December 11, 2022, The A-League (Australia and New Zealand's top soccer league), in an agreement with the New South Wales Government, made a controversial decision to award Australia's capital city, Sydney, the right to host the next three Grand Finals. In his article for The Sporting News, Jed Wells quotes Danny Townsend, CEO of the A-League, who, in a press conference, defended the decision saying it would be "a unique opportunity to build a tradition for football fans" to be in the same city three times. Not surprisingly, many fans were left questioning the announcement. One of the featured tweets was by a Freelance Journalist named Tom Williams who said, "The decision for A-League GFs to only be played in Sydney is a weird one for me. I'd love to hear the full justification for it."
Sometimes, when people make dumb decisions people get angry, especially when they are ignored. As a result of that announcement, many A-League fans began protesting at matches. In a rivalry matchup in Melbourne, Victoria, between two Melbourne-based teams Melbourne City and Melbourne Victory called the Melbourne Derby six days later, play was stopped 20 minutes in as Victory fans started throwing flares onto the pitch to protest the league's decision. Shortly after that,  Melbourne City goalkeeper Tom Glover threw one of the flares back towards the fans and all hell broke loose as Glover and referee Alex King were attacked by a fan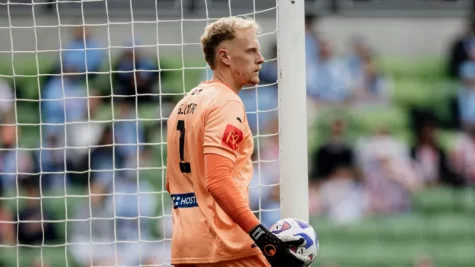 holding a metal bucket, and a cameraman was hit and injured by another flare. Ultimately, this all resulted in Glover and King suffering head lacerations and gashes respectively, according to abc.net.au. 
In addition to teams using money to maintain their existence, they also use it to win. The Premier League team Manchester City was taken over by a member of the Abu Dhabi Royal Family in 2008 and four years later won their first Premier League title. In fact, in the past 5 seasons, Manchester City has won the championship 4 out of 5 times. On October 2, 2022, they faced off against their fellow Mancunian rivals and 13-Time Premier League Champions Manchester United and spectacularly won the match. Shortly after Manchester City player Phil Foden got a hat trick upping their lead to 6-1, Mark Goldbridge, host of a Manchester United Fan YouTube channel called "The United Stand" during his watch party live stream of the game stated, "I can't stand Man City. I can't. And I know, I know, I know Man City fans are gonna revel in this but I cannot stand Manchester City. I mean, they're just, they're just a cheat code club. And we're…..we're terrible. I've gotta take the medicine, we're terrible, but there is nothing credible about Manchester City, there is nothing credible. They're just, They're just bo- they're just a billionaire's playtoy." Goldbridge's sentiment – though wordy and rambling – captured the essence of big market teams that are ridiculously funded.
While Premier League soccer teams boast some of the highest-paid team sport athletes on the planet, the truth is, big market teams in all of the major sports in the U.S. dominate with high payrolls and highly-compensated players, which often persuades players to go to big market teams rather than small market teams, and Major League Baseball (MLB) is a prime example of this. 
In the spring of 2019, Bryce Harper, a player for the Washington Nationals was a free agent who ultimately signed a 13-year, 330 million contract to play with the Philadelphia Phillies. In an article by NBC Sports Washington, one of the teams that were apparently interested in signing Harper was the Chicago White-Sox, a team considered one of the smaller and lesser-known in MLB. 
During the same period, former Baltimore Orioles and LA Dodgers player Manny Machado, another free agent, inked a massive contract by signing a 10-year, 300-million-dollar deal with the San Diego Padres. According to the same NBC Sports Washington piece, this signing set the market for player salaries and was used as a "benchmark for what Harper was looking for." It also, according to the article, moved the White Sox out of the running for Harper as "the White Sox have never signed a player to a deal of that size." And of course, the White Sox weren't able to get Harper but the Phillies – one of the bigger market and free spending teams in MLB – did. 
In the simplest of terms, although money is usually good, it can be a pain in the butt for everyone in the sports world.