Scholar-Athletes: What it Takes to Succeed.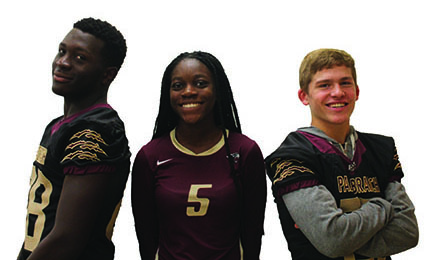 Hang on for a minute...we're trying to find some more stories you might like.
Excelling at school takes significant effort. For one to rise to the level of a true scholar, s/he must commit to the work and dedicate time to improvement. For those who wish to reach the level of scholar-athlete the task is that much harder. Excelling in the classroom and on the field or court requires not only dedication, but many other skills including time management and stamina. For student-athletes, excelling in both places means committing twice the effort. For three students at Paint Branch, Alfonse Raule, Yaa Asante and Tyler Przygocki, this commitment has been a battle against deadlines and game times, which has made it challenging to stay on top of everything else.
Alfonse Raule, a senior at Paint Branch, played varsity football his freshman year before taking two years off to play soccer – one year with junior varsity and one with varsity – and then coming back for his senior year. Raule is hoping that strong work on the field would earn him a scholarship, but he knows that academics plays a key role as well. While Raule has been involved in sports, he has not forgotten about his academics. He has taken challenging classes such as AP Language and Composition and AP World History and managed to pass both exams. On top of that, he writes for Mainstream and is a strong A, B student.
Yaa Asante, a senior at Paint Branch, played varsity volleyball her sophomore and senior years, and varsity coed volleyball as a junior. Asante took four AP classes in her junior year, which she managed to maintain A's in each of them. She is currently taking three AP classes with one college class.
Tyler Przygocki, a junior at Paint Branch, was involved in track freshman year, JV lacrosse sophomore year, varsity wrestling and football from freshman to junior year, and he is planning on playing varsity lacrosse this year. On top of his busy schedule with sports, he takes Honors and AP classes such as AP NSL, AP Biology, and AP Language and Composition.
Mainstream: How do you manage high level academics with high level sports achievement?Alfonse: Football is the hardest sport to play from my experience. It is definitely challenging to maintain good grades because as, a student-athlete, the student part comes first. I have to balance my time out, which is difficult, but I try my best to give each one a fair amount of time.
Yaa: It is hard to balance. After practice I always try to give myself some time to do my homework – about three to four hours.
Tyler: It is hard to manage. I have to use my time effectively. There is no time for procrastination. I always have to find time outside of school to do work, which can be a little hard to manage.
Mainstream: What is fun about excelling at both?
Alfonse: The feel of winning."It feels better to achieve both; it is like hitting two birds with one stone.
Yaa: It feels good to being able to juggle and balance responsibilities outside of school work and feeling accomplished to achieve in both.
Tyler: The fun part is that you get to make new friends, new connections, become a role model for people. It feels good to accomplish both knowing that I'm able to do good in multiple areas.
Mainstream: Biggest challenge – the sport or the classes?
Alfonse: Both, trying to focus on and off the field.
Yaa: Classes are the bigger challenge. It is difficult to maintain focus in class when thinking about a difficult match or maybe being tired from all the exhausting work both school and volleyball have to offer.
Tyler: Both. For classes, I have to find time to study and find enough time to do homework. For sports, it's the intensity of the practices that cause me to be exhausted by the end of the day, which makes it hard to find motivation to do or finish school work.
Mainstream: Biggest impediment to success?
Alfonse: Staying focused and keeping it coed.
Yaa: Friends, television, and cell phone.
Tyler: Wanting to hang out with friends, or just the need to relax.
Mainstream: Was there ever a time when it all seemed too much? How did you persevere?
Alfonse: Yes, in ninth grade, so I took a break from football. High school was hectic enough to handle and you cannot make mistakes. However, once I got the hang of it, I picked up my pace again.
Yaa: Yes, some days tests and homework piles up, and I have to start working on them after a game that ended late. It gets overwhelming, but I just have to pace myself and tell myself that it is ok if it is not perfect all the time. I have to accept what I have and improve next time. Trying to not let my disappointment be in the way of my success.
Tyler: Yes, I try to think about the bigger picture and think about how will what I'm doing right now benefit me in the future, which often helps me persevere.
These student-athletes illustrate the hardship and the time consuming aspects that are required in order to excel at both. Everyone has a limit, a breaking point that leads them to give up or reassess and these students are no different. These young people prove that there are ups and downs to every choice we make. It is not about the hardships, it is about how to overcome them.