What are we talking about, practice ?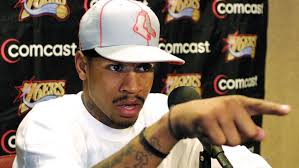 Hang on for a minute...we're trying to find some more stories you might like.
It was the 2001-2002 season, one year after Allen Iverson had led the Philadelphia 76ers to the playoffs and received the league MVP award. The 2001-2002 season, however, was not too kind to Iverson. After losing in the first round of the playoffs to the Celtics, and suffering through a tumultuous relationship with  head coach Larry Brown, and talks of a possible trade, Iverson sat for a news conference. The conference, held after the season was meant to quell rumors of a possible trade and address some complaints of the team during the season.
Matt Walks of ESPN describes the interview in his piece "Allen Iverson's practice rant: What has been forgotten 14 years later." Walks describes the moment as a "legendary rant." He explains that this news conference "encapsulated Iverson for all that he was — funny, proud, indignant, exasperating, misunderstood." In this historic rant, Iverson decries and ridicules the questions of one of the reporters, leading to his memorable diatribe in which he even went as far as saying "How am I going to make my teammates better by going to practice."
All fervent basketball fans will immediately recognize this iconic Allen Iverson interview. In the history of memorable and iconic sports interviews, Iverson's "Practice?" comment takes the top spot.
Ever since that moment went viral, with remixes and songs made, and modern-day athletes like Lebron James causally make side jokes about "practice," it has been locked in our culture. For the most part, the legacy of Allen Iverson has been sullied and he has become the epitome of an athlete who is described as someone who was "talent without hard work." Whether it is the off-handed remarks in casual sports conversation of "Allen Iverson is as good as Jordan, he just didn't practice" or your teammate saying "you are not A.I come to practice," The general consensus is that Allen Iverson never reached his full potential because he didn't practice.
The full, and gloomier story behind this rant provides some much-needed perspective, which Walks explains in his article. Walks notes that "the practice rant is the raw and lingering wound Iverson still suffered from the death of his best friend [Rahsaan Langford]." He continues by explaining that "just days before his interview, the murder trial for the man accused of killing Langford began."
Only 29, Langford was shot and killed on October 13, 2001. Without a doubt, Iverson carried this weight with him throughout the season. ESPN commentator Stephen A. Smith, on his show "First Take," relayed a conversation he had with Iverson about this event. He relayed Iverson's regret over the conference; "If I could go back, I would have never done the interview."In addition, Iverson still had some lingering animosity over the event saying, "They had no idea my best friend had just got killed…Nobody ever talked about that, never heard why I was upset or what the conference was about."All of this undoubtedly led to the outburst during the conference. Yet somehow all of this context has been lost.
So, while the Allen Iverson story is one that is years in the past, we should still step away from it and instead of picking the low hanging fruit and using Iverson as a punching bag, take his advice and "stick your foot in my shoes, Just for one minute."