Why You Should Watch On My Block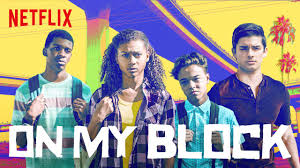 Spoiler Alert: This article contains specific details about the ending of season 3. 
Season 3 of the very popular Netflix teen show On My Block, was recently released and has been a hit for a number of reasons, including the fact that so many people are quarantined. . 
Me,  I binged it all in one night. There was one thing that I really appreciated about this season, and that was the ending. Oftentimes in fictional shows, there are very fluffy endings. However, this season ended in a surprisingly realistic way, and I think that's why so many people didn't like it.
We look to television shows as other realities, so when something is actually accurate, it can hit a little too close to home. The main character in the show, Monse, had moved away from her fictional hometown of Freeridge, California to go to a private boarding school. Before she left she made her three friends, Jamal, Ruby, and Jasmine, promise each other that nothing would change with their friendship. Well, soon after that moment there is a two year time jump. Monse is in the dorm with her new private school girlfriends snacking and hanging out. We see her in a completely different light as  she was never into "girly" things at home, and she wasn't very social. 
As for the friends she left at home, Jamal, once a very quirky kid, is now a part of the football team, and appears to be very popular. Again, this is very strange because when his dad was pushing for him to do football in the past, he was very against it. Reuben or "Ruby ,', and Jasmine are a couple, something that Ruby would have never imagined happening back in season 1 since he showed no interest in her. 
Other characters have also seen changes come their way. Cesar went back to the Santos gang,which he now seems to lead. After seeing Caesar's journey with trying to get away from gang violence, this was very disappointing for fans,because we expected, and wanted, better for him.
It's so interesting to me how they all became the version of themselves that they once hated. It is also clear that they all went their separate ways, and no longer talk. It is unclear exactly what drove the wedge, but hopefully it will be revealed in season 4, assuming the show will be renewed. I appreciated how it wasn't the typical "happy ending" that so many shows try to achieve. This season showed what really happens  in high school, including how friend groups break up. You can watch people that you have known forever go down the wrong path. Although it's a tough subject, it's very real. That is why it was hard to watch. Fans looked at these characters and thought that they were inseparable, because they were on TV, and we just expect that. I like how it actually reflects real life, and the real experiences of teenagers.