New Artist Profile: Daniel Caesar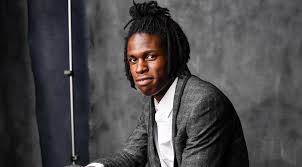 H.E.R, Khalid, Miguel,  Chance the Rapper, Lauryn Hill, and Maxwell are names that most people recognize because of their music and the impact that it has on people. If you enjoy these artists, then you should go and check out Daniel Caesar's music.
Caesar is a contemporary R&B artist with  neo-soulful vibes. Born Ashton Simmonds on April 5, 1995 in Oshawa, Canada, Caesar was raised in a very strict and religious home by his parents Hollace and Norwill Simmonds along with 3 siblings. According to biography website Heightline, Caesar's father was a gospel singer and Caesar was a choir member of the Seventh-Day Adventist Church. Growing up, Caesar was limited to only listening to black gospel music because his parents viewed anything else ungodly.
Frustrated by the strict hold his parents had on him, he Caesar left home at the age of 17 and was homeless for a while. According to Fender magazine's Mike Duffy, in order to begin his own musical journey, he moved to Toronto where he was still homeless and slept at the Trinity Bellwoods Park, a place he would later name one of his songs – "Trinity Bellwoods." A local act named Sean Leon introduced Caesar to producers Matthew Burnett and Jordans Evans. They introduced Caesar to R&B influencers Jodeci and D'Angelo, further shaping Caesar's sound.
Caesar's angelic voice and unique style is what draws fans to him. Courtney Bailey, a sophomore at PB believes that Caesar's songs are emotional. She says, "His voice is very nice and his songs make me want to cry."
Caesar was able to build himself up and create a fanbase that included Chance the Rapper, Stevie Wonder and many other high-profile artists after his first two EP's Praise Break and Pilgrim's Paradise, according to Heightline, he caught former President Barack Obama's eye this year and found his way onto his playlist. According to Billboard magazine's Melissa Vincent, "…Obama put Caesar's 'Blessed' on his annual personal playlist of favorite songs of the year alongside artists like Harry Styles and Kendrick Lamar."
His latest hits have earned him a spot in the charts and his fan base is growing more and more each day. According to Billboard magazine's  Melissa Vincent, "His breakout single "Get You" amassed over 10 million streams on Apple Music since its October, 2016 release; he's nestled in with The Weeknd, Childish Gambino and Chris Brown on the platform's charts. According to his management, the singer's catalog has garnered over 20 million global streams on Apple Music and 12 million streams on Spotify, with a listenership of over 740,000 per month."
Naila Faustin, a junior at PB, believes that Caesar will go very far in his career. "Because Daniel Caesar has such a amazing voice he will go far and he makes good in your feelings music," she says.
His interview with Billboard magazine's Melissa Vincent talks about why he is not signed to a major label. Caesar, not wanting to be tied down by a label, created his own label, Golden Child Recordings with the help of producers Matthew Burnett and Jordan Evans. He says, "We sat through a lot of pleasant label meetings, but none of them reflected the value we placed on our work."
Daniel Caesar's work has earned him a Grammy nomination for his Best R&B Album and Best R&B Performance. He earned several wins at the Juno Awards and the iHeartRadio Much Music Video Awards at the age of 23 years old . This is just the beginning for the up and coming artist, there are many great things in store.