All About Art
Annual Show Highlights Talents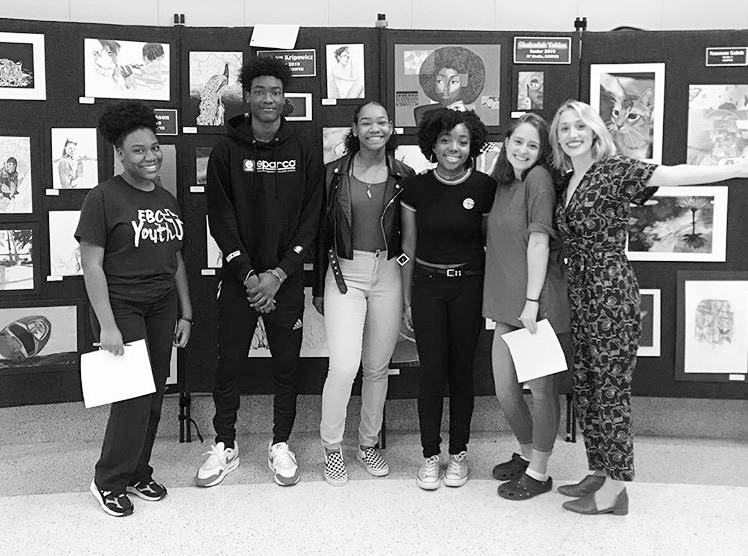 On Thursday, April 25th, Paint Branch High School celebrated its annual art show. The event took place the entire school day and featured student artwork ranging from first year students to AP students. The show was set up outside the main office and the hallways were filled with art including photography, paintings, portraits, and sculptures.
The entire day, students and staff were strolling the halls admiring the amazing and unique art on display. Mary Shawhan, a sophomore who enjoyed the work and the displays remarked, "I think it's a-lot of fun, it's nice to see how other students work can be showcased, so people can share their artwork and become more exposed."
Another sophomore, Genesis Bueno, admired the work, saying, "It's cool seeing all these pieces and to see how other students can put stuff together." Donald McElveen, a senior, felt that the work on display served an important purpose. "I think it's also important to highlight different students backgrounds because it's reflected in their art," he said.
PB art teacher Ms. Aumaitre expressed how she hoped the the art show would impact student's and the school remarking, "I hope they would see that there are so many ways of creating art and that their fellow classmates are extremely talented and expressive." Ms. Aumaitre also conveyed her thoughts on why it's important to showcase student's artwork saying, "I think it's important because a lot of students don't get the opportunity to show that side of themselves, and at school it's a safe environment to show off that side of it."
It is pretty clear that the art show not only was enjoyable, but also highlighted the diversity of Paint Branch. In showcasing such a wide array of student work, the show provided students a chance to express their personalities, their beliefs, and the unique way they see the world. The annual art show truly carved a path for students to become comfortable with expressing themselves in different ways at school. The event was a fun and good chance to admire student's talents, surely next year will be just as inspiring and wonderful.