Trinity's Take: Birds of Prey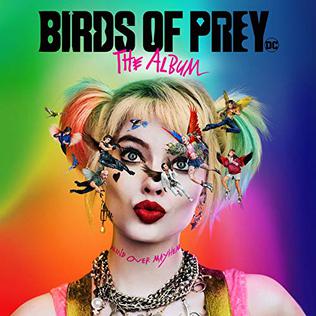 Hot Pink by Doja Cat
Rating: 4 stars
Rapper-singer and songwriter Doja Cat made a name for herself after her hit single "Mooo!" was released last year and had everyone singing along to her kooky lyrics. Since then, Cat has released another hit, "Tia Tamera," featuring Rico Nasty, which has so many pop culture references that there is no denying her talent for wordplay. Although she has a quirky and funny demeanor, Cat has a commanding presence that attracts listeners. 
Hot Pink, a 12 song album, expresses Cat's ability to show her outgoing attitude through her music. She oftens uses a super soft and chill tone, and then immediately turns frantic and upbeat when she is going in on a verse. This is what makes some of her tracks ultra-commercial. Cat easily moves into her rap mode, a whispery chorus with an upbeat groove that makes listeners tune in more. 
Overall, this album leaves her fans wanting more. While her pop songs complement her more intimate songs, these do not distract listeners. Doja Cat is in her own lane and winning, so many are excited to hear more of her music. Standout tracks on this album include "Say So," "Streets," and "Like That."
Changes by Justin Bieber
Rating: 4 stars
The pop star sensation has returned with an R&B album that allows "Beliebers" to see his growth from a boy to a man. Beiber entered the music scene at age 13 after he was discovered on Youtube, and the rest is history. From winning Grammys and Billboard awards to being on a 5-year hiatus from music, he has remained on peoples' minds and in the public eye. His new work shows the tremendous growth that comes from the personal issues he's faced, and this album is evidence of that.
Changes, a 17 song album, shows his love for his new wife and how love can have its ups and downs. This album's vibes speaks of the honeymoon phase as he talks about young love and the positive sides of that. Bieber's artistry shines through as listeners can hear his smooth vocals and commercial beats that remind the Beliebers why they fell in love with his music in the first place. Bieber's ability to transition from a soft and mellow tone that makes listeners sing along, to simply speaking is what tunes listeners in more. 
This album really centers on Bieber's growth as a man, taking his time, and being a new husband who is excited for all things coming in life. This album gave fans a new side of him that many are looking forward to seeing more of in the future. Standout tracks include, "Yummy," "Intentions," and "Get Me."
Birds of Prey By Various Artists
Rating: 4 ½ stars   
Margot Robbie makes an appearance as Harley Quinn again in the eighth installation of the DC Extended Universe film Birds of Prey. This movie is a follow-up to the popular movie Suicide Squad that starred Robbie as Quinn alongside others including Will Smith, Viola Davis and Jared Leto in 2016. The soundtrack album of the new film includes artists such as Saweetie, Megan Thee Stallion, Doja Cat, and many more. 
Birds of Prey, a 15 song album, showcases various artists' abilities to adjust to scenes and make viewers more engaged in the movie. The soundtrack is one incredible hit after another, bursting with energy, and sometimes has chaotic sounds that are reflected on the screen. Doja Cat's "Boss B****h exhibits Quinn's determination to be independent and shows how she does not need help from any man. Megan Thee Stallion and Normani's "Diamonds" resembles Marilyn Monroe's "Diamonds Are a Girl's Best Friend." The catchy hook and energetic vibes match the energy on the screen. Saweetie and Galaxara's "Sway With Me" screams girl power with hypnotic beats and fierce vocals. 
Overall, this soundtrack is a perfect fit for the movie. The female artists and female actors are all about empowering each other and this promotes girl power.