PBHS Edge Pigskin Podcast – NFL Week 2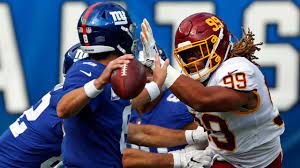 Week one of the NFL season brought some surprises as the Raiders toppled the Ravens in Vegas, the Dolphins held on against the Pats in New England, and the Washington Football Team lost both a game and starting quarterback Ryan Fitzpatrick against the Chargers.
This week, the guys take a look at five games including Thursday night's Washington Football Team battle against the Giants, a big Sunday tilt that sees the Raiders travelling to Pittsburgh, and the much anticipated Sunday night matchup between the Chiefs and Ravens. Pigskin Podcaster AJ Yearwood was unable to attend this week's session, but his picks appear below:
Raiders at Steelers: This one looks like a clear Steeler victory. Take the Steelers, 24-7
Patriots at Jets: Two young starting quarterbacks in this on. This is going to be a challenge for both Mac Jones and Zach Wilson, but I have the Patriots winning this one 24-17.
Titans at Seahawks: Gonna try my best to not be biased here but Julio Jones did not have the best debut in his new jersey last week. But with AJ Brown, Jones, and Derrick Henry in it, the Titans offense is dangerous. However, I believe if Russell Wilson's offensive line protects him, the Seattle Seahawks will beat the Titans by a score of 28-24.
Chiefs at Ravens: This is going to be an offensive clinic, but if you ask me – both teams have good defensive backs in Marlon Humphrey and Tyrann Mathieu. No matter, I believe that the Chiefs will best the Ravens by a score of 34- 28.